US Nationwide Data Recovery Services | HDD, RAID, SSD
US Nationwide Data Recovery Services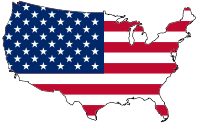 Are you having trouble to access your valuable data? Bring your failed media in to a nationwide leader in the data recovery technology. ACE Data Recovery provides a hard drive and other media data recovery service throughout the United States. Our clean room facilities are located in Dallas and Houston,TX and Chicago, IL whereas most of our customers live in other states where there are no real hard drive data recovery companies.
The data recovery market is filled with former or existing computer repair shops whose abilities to recover data are limited by the software downloadable from the Internet, or they just act as resellers for other data recovery companies.
Free external hard drive or usb flash with each
completed
recovery
Only few companies in the United States are equipped with certified clean rooms and provide a full data recovery service. Even such companies only have one or two labs equipped with the Class 100 Clean Rooms - all other locations are just receiving centers or points of presence.
What media would you like us to recover your data from?
Don't waste your time and money and select a company which can really help you with getting your lost data back! It is just a FedEx or UPS shipping away from your business or household.
DATA RECOVERY SERVICE AREAS BY STATE:
Data Recovery Parterns Across the US
If you are a
computer repair or service organization
located in the United States, ACE Data Recovery is always looking for new partners. For more information or to enroll in our data recovery partner program, please contact our
Partner Accounts Division.