ACE Data Recovery - Remote Data Recovery Services
Fast, Secure, Cost-effective Remote Data Recovery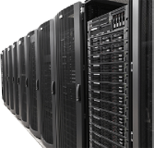 ACE Data Recovery's engineers routinely work on highly complex projects to recover data from mission-critical enterprise systems. We are the industry experts in recovering data from Enterprise Storage Arrays, SAN and NAS systems. We also perform data recoveries in virtual environments like VMware ESX/ESXi, Microsoft Hyper-V, Oracle VM, Citrix XenServer, and others.
Every
enterprise remote data recovery
case gets our special attention because we understand how important business data is.
Time is money
. When mission critical data is deleted or damaged, but a media is stable and functioning properly, remote data recovery might be the best and only choice.
With ACE
Remote Data Recovery Manager
(ARRM) your critical business data will be recovered from a logically corrupted storage system, SAN, NAS, RAID, server application, or Virtual Machine in a high-speed and convenient way via a highly secure Internet connection.
ACE Remote Recovery Manager Advantages
Significantly reduces downtime and saves you money every minute
Provides 24/7 data recovery service to customers anywhere in the world
Available when enterprise storage cannot be relocated to a data recovery lab
Available when enterprise storage is in use and cannot be disassembled
Allows early stage diagnostic evaluation
ACE Remote Recovery Manager Supported Technologies


Based on our experience, the most common data loss issues businesses face are file deletion, reformatting/repartitioning, and Virtual Machine file (VMDK or VHD) corruption. ACE Data Recovery has one of the
highest remote recovery success rates
in the industry recovering data from the following technologies:
Hypervisors: VMware ESX/ESXi, Microsoft Hyper-V, Oracle VM, Citrix XenServer.
Virtual Machine containers: VMDK, VHD.
File Systems: NTFS, ReFS, VMFS, XFS, ExtFS, HFS.
Databases: Microsoft SQL, MySQL.
Mail Systems: Microsoft Exchange
ACE Remote Recovery Manager Process
1. Performing the initial evaluation of your situation via a phone interview.
2. Clarifying with you ARRM requirements and gathering all necessary information.
3. Remotely connecting to a computer on your site attached to the media in question.
4. Configuring the "recovery computer" and installing ARRM.
5. Performing full diagnostic, providing a quote.
6. Recovering the lost data.
7. Validating the results.
Timely, Professional Remote Data Recovery
When time is critical, ACE
Remote Recovery
Manager will provide your business with the fastest, secure, and cost-effective
data recovery solution
possible saving your both time and money. All we need from your side to perform
remote data recovery
is an available system with reliable broadband Internet connection and a storage media to transfer your files to. If you would like to request additional information about ARRM or to get started, please
call us at 877-304-7189
.