Data Recovery Services in New Hampshire - Hard Drives, SSD, RAID Recovery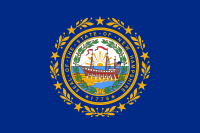 Sudden storage media problems can mean serious down time for businesses. But in most cases, your critical files can be recovered from failed hard drives, solid-state drives, USB Flash drives, memory cards, all kinds of RAIDs and tapes if you deal with a reliable data recovery service provider that has technology and expertise necessary to get your data back.
Lots of businesses and individual computer users in New Hampshire prefer to count on ACE Data Recovery team and when they need to recover their irreplaceable files from failed or outdated storage devices. New Hampshire residents know that ACE Data Recovery has the most advanced facilities and the experienced engineers that can recover data from every make and model of storage media and regardless of the initial cause of data loss.
Premium data recovery services at competitive prices for residents of New Hampshire
ACE Data Recovery has been providing fast and cost-effective data recovery services for more than 35 years and has a reputation as one of the most trusted and experienced data recovery companies in the United States. ACE Data Recovery team offer a wide range of data recovery options to meet needs of each client from global corporations to local college students.
When standard technologies do not work, ACE Data Recovery engineers create high-specific solutions for unusual cases and successfully recover lost data from failed hard disk drives, SSDs, RAID arrays, USB Flash drives, camera memory cards, and tapes. ACEs succeed where other labs fail.
It's vital that ACEs offer competitive transparent pricing that includes free initial diagnostics of a single media and 'No data – No charge' guarantee.
What media would you like us to recover your data from?
Take advantage of the best data recovery services in New Hampshire with ACE Data Recovery team
If your computer has crashed or your external drive has stopped working and you unable to access your data, ACE Data Recovery team makes the best choice because, dealing with ACEs, you can be absolutely sure that your data is in safe hands.
Lots of businesses and individuals across the United States choose ACE Data Recovery when they need to recover important business documents, family photos, and other irreplaceable files from failed HDDs, SSDs, USB Flash drives, RAID, NAS, SAN, memory cards, and tapes. ACEs will welcome the opportunity to help residents of New Hampshire with their data recovery needs and offer the personalized experience and professional results.
Contact ACE Data Recovery support team for your free consultation and discuss how ACEs can help you.
Municipalities in State of New Hampshire:
Amherst
Barrington
Bedford
Belmont
Berlin
Bow
Claremont
Concord
Conway
Derry
Dover
Durham
Exeter
Franklin
Gilford
Goffstown
Hampstead
Hampton
Hanover
Hollis
Hooksett
Hudson
Keene
Laconia
Lebanon
Litchfield
Londonderry
Manchester
Merrimack
Milford
Nashua
Newmarket
Pelham
Pembroke
Plaistow
Portsmouth
Raymond
Rochester
Salem
Seabrook
Somersworth
Stratham
Swanzey
Weare
Windham