Data Recovery Services in Maine - Hard Drives, SSD, RAID Recovery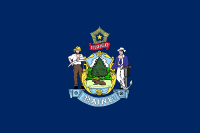 The constantly developing market of computer technologies offers consumers in Maine more and more sophisticated ways to store important business and personal information. But, unfortunately, all storage devices will eventually fail and data loss is often inevitable. The only safe way to get critical files back from failed hard disk drives, solid-state-drives, RAIDs, camera memory cards, and tapes is to contact a qualified data recovery service provider.
Many business owners and individual computer users in Maine prefer to rely on ACE Data Recovery to get a perfect solution for their data recovery needs. ACE Data Recovery experts can tailor the data recovery process to fit the needs of every client from large corporations to local college students.
Dealing with ACE Data Recovery means getting high-quality services for fair prices
ACE Data Recovery team has partnered with the leading HDD and computer manufacturers such as Western Digital and Dell. ACEs have state-of-the-art facilities with Class 100 clean rooms and leading-edge software and hardware tools to provide the most efficient and innovative solutions in the industry. ACE Data Recovery engineers are experienced in recovering lost data from any types of hard drives, RAID arrays, SSDs, USB Flash drives, memory cards, and tapes and can get any types of files no matter what the cause of the failure is.
ACEs never outsource recovery projects to other companies and guarantee comprehensive data verification process and quality control. It's vital that ACE Data Recovery offers quick and efficient services at reasonable prices and has transparent and competitive pricing policies that include free diagnostic evaluation, 'No data – No charge' guarantee, and the price quote that will never increase.
What media would you like us to recover your data from?
Data Recovery Services for the Maine Customers
ACE Data Recovery has been providing quick and efficient services for more than 35 years and now it is the market leader in data recovery technologies and offers a wide range of data recovery options across the United States. ACE Data Recovery professionals will welcome the opportunity to offer top-quality services and outstanding results to all customers in Maine.
ACEs can help you retrieve your lost files, folders, photos, and videos from failed HDDs, SSDs, RAID, NAS, and SAN, memory cards, USB Flash drives, and tapes. If you lost or deleted your data and need data recovery, don't leave it up to chance. Contact ACE Data Recovery dedicated support team for a free consultation.
Municipalities in State of Maine:
Portland
Lewiston
Bangor
South Portland
Auburn
Biddeford
Sanford
Saco
Augusta
Westbrook
Waterville
Presque Isle
Brewer
Bath
Caribou
Ellsworth
Old Town
Rockland
Belfast
Gardiner
Calais
Hallowell
Eastport