Data Recovery Services in Tennessee - Hard Drives, SSD, RAID Recovery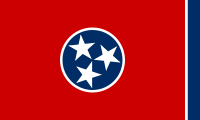 Unfortunately, hard disk drive, solid-state drive or RAID configuration failures happen when you least expect them and your valuable files get inaccessible. Then you will need professional services that can ensure totally risk-free data recovery process and get your critical files back. That's why many businesses and individual computer users in Tennessee rely on experienced professionals from ACE Data Recovery team who can successfully conduct data recovery from failed HDDs, SSDs, USB Flash drives, memory cards, tapes, RAID, SAN and NAS without damaging the media device or data.
ACE Data Recovery is the worldwide leader in providing data recovery services and has the necessary technology and expertise to deal with plenty of different data loss scenarios effectively. Residents of Tennessee prefer to deal with ACE Data Recovery experts because they know that ACEs produce results like no one else can.
High-grade data recovery services at fair prices for businesses and individuals in Tennessee
ACE Data Recovery engineers are hired from all around the world and are the best in the industry. They have vast experience in recovering, repairing, and restoring lost data from any types of hard drives, SSDs, RAID arrays, USB Flash drives, laptops, and camera memory cards. When standard technologies fail, ACE Data Recovery certified specialists create custom data recovery solutions for unusual cases.
All recovery procedures are done in the company's labs and ACEs never outsource recovery projects to other companies. That makes the recovery process quick, efficient, and totally risk-free. It's important that prompt and effective services from ACE Data Recovery are provided at competitive prices with 'No data – No charge' guarantee.
What media would you like us to recover your data from?
ACE Data Recovery specialists are ready to help customers in Tennessee
When your storage media fails and you need access to your important documents, photos, videos, and other irreplaceable files quickly, you can rely on ACE Data Recovery to provide an efficient service that is right for your unique situation. ACEs ensure a quick recovery of valuable data from failed hard drives, SSDs, USB Flash drives, memory cards, tapes, and all kinds of RAIDs and offer their services for all customers in Tennessee.
ACEs would welcome an opportunity to help residents of Tennessee recover their irreplaceable files from failed HDDs, SSDs, USB flash drives, RAID, SAN or NAS and provide them with perfect solutions for their specific data recovery needs. Contact ACE Data Recovery support team to learn more about their safe and cost-effective services.
Municipalities in State of Tennessee:
Nashville
Memphis
Knoxville
Chattanooga
Clarksville
Murfreesboro
Franklin
Jackson
Johnson City
Bartlett
Hendersonville
Kingsport
Collierville
Smyrna
Cleveland
Brentwood
Germantown
Columbia
La Vergne
Spring Hill
Gallatin
Cookeville
Mount Juliet
Lebanon
Morristown
Oak Ridge
Maryville
Bristol
Farragut
East Ridge
Shelbyville
Tullahoma
Dyersburg
Goodlettsville
Springfield
Sevierville