Data Recovery Services in Indiana - Hard Drives, SSD, RAID Recovery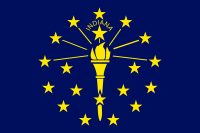 Modern computer technologies offer consumers more and more sophisticated ways to store their data but, unfortunately, sooner or later even the most reliable storage device can fall victim to physical or logical failure that can result in file inaccessibility. The only way to get personal or business-related data back from a failed hard drive, solid-state drive, USB Flash drive, memory card, and tape, RAID, NAS or SAN is to contact a professional data recovery services provider you can trust.
Residents of Indiana prefer to deal with experienced engineers from ACE Data Recovery team when they need to rescue their irreplaceable files from failed SSDs, HDDs, USB Flash drives, tapes, memory cards, and all kinds of RAIDs. ACEs retain market leadership in data recovery technologies and can successfully recover data that other companies can't.
Efficient data recovery services at fair prices for businesses and individuals in Indiana
ACE Data Recovery engineers are the industry's elite and have a vast experience in recovering lost data from any type of storage device: hard disk drives, SSDs, USB Flash drives, tapes, memory cards, RAID arrays. They have unmatched skills to provide the most efficient and innovative data recovery solutions. They understand that each client is unique and can tailor the data recovery process to meet the needs of every customer from global corporations to college students.
ACE Data Recovery has advanced facilities with Class 100 clean rooms for HDD recovery that are electronically monitored 24 hours a day to ensure air quality and absence of particulate contamination. ACEs perform all data recovery procedures in their own labs and guarantee comprehensive data verification process and quality control. ACEs recover data in a totally risk-free, fast, and cost-effective manner and offer 'No data – No charge' guarantee.
What media would you like us to recover your data from?
Data Recovery Services for the Indiana Customers
Losing your valuable documents, videos, photos, and other files can be frustrating, but there is a chance to get your lost data back from failed HDD, SSD, USB Flash drive, memory cards, tape or RAID array. ACE Data recovery team has technology and experience necessary to get your data back. ACE Data Recovery certified professionals are ready to help customers in Indiana with their data recovery needs and guarantee outstanding service quality and unmatched results.
Crashed hard drive or failed RAID array? Contact ACE Data Recovery support team and find out how ACEs can help you.
Municipalities in State of Indiana:
Indianapolis
Fort Wayne
Evansville
South Bend
Carmel
Fishers
Bloomington
Hammond
Gary
Lafayette
Muncie
Terre Haute
Kokomo
Noblesville
Anderson
Greenwood
Elkhart
Mishawaka
Lawrence
Jeffersonville
Columbus
Portage
New Albany
Richmond
Westfield
Valparaiso
Goshen
Michigan City
West Lafayette
Marion
East Chicago
Hobart
Crown Point
Franklin
La Porte
Greenfield