Data Recovery Services in Pennsylvania - Hard Drives, SSD, RAID Recovery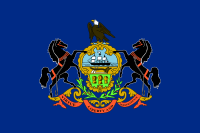 Are you living in the Pennsylvania? Are you struggling with data recovery? In that case, you might be having trouble finding a data recovery service provider that's just right for you. It might be because of that annoying virus or that sudden power outage that you are suddenly in this state of distress. Data recovery is an extremely delicate process; in most cases you will not be able to do the job on your own. This is why you need us. For instance, if you lose all the information from your hard drive, you will require the services of an
recovery expert in Pennsylvania
who will be able to look at your hard drive and decide what method of recovery is right for you.
What media would you like us to recover your data from?
Data Recovery Services for the Pennsylvania Customers
Hard drive recovery is one of the most common data recovery issues, however some companies still lack the skills and knowledge required to recover data from hard drives. ACE Data Recovery has the most qualified individuals in the business to address your data recovery issues in
Pennsylvania
. We offer a wide range of services: hard disk recovery, solid state drives recovery, deleted file recovery, RAID recovery, and external hard drive recovery. Our engineers are experts in all types of data recoveries including recoveries from formatted data from hard drive.
Free external hard drive or usb flash with each
completed
recovery
Cities in State of Pennsylvania:
Aliquippa
Altoona
Arnold
Beaver Falls
Bradford
Butler
Carbondale
Chester
Clairton
Coatesville
Connellsville
Corry
DuBois
Duquesne
Easton
Erie
Farrell
Franklin
Greensburg
Harrisburg
Hazleton
Hermitage
Jeannette
Johnstown
Lancaster
Latrobe
Lebanon
Lock Haven
Lower Burrell
McKeesport
Meadville
Monessen
Monongahela
Nanticoke
New Castle
New Kensington
Oil City
Parker
Pittsburgh
Pittston
Pottsville
Reading
St. Marys
Scranton
Shamokin
Sharon
Sunbury
Titusville
Uniontown
Warren
Washington
Wilkes-Barre
Williamsport
York