Data Recovery Services in Kansas - Hard Drives, SSD, RAID Recovery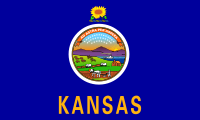 Electronic data is now an integral part of the human experience and a critical foundation of corporate success. That's why sudden media issues connected with a data loss because of a storage device failure can be frustrating for individuals and mean serious downtime and lost work for businesses. Making regular backups is a good way to ensure files safety for residents of Kansas but, unfortunately, data loss is unpreventable in many cases.
Data recovery is not a hopeless situation for computer users in Kansas who prefer to take advantage of advanced data recovery solutions from ACE Data Recovery team when they need to recover critical files from failed hard disk drives, solid-state drives, RAID servers, SAN, NAS, USB Flash drives, memory cards, and tapes. ACE Data Recovery engineers have developed a wide range of specialized data recovery services to help residents of Kansas recover what matters most.
Premium data recovery services at fair prices for businesses and individuals in Kansas
Having the most advanced facilities and experienced engineers that can develop highly specific methods and tools to recover data from every make and model of storage media, ACE Data Recovery team is the best choice to handle the most extreme situations of data loss with failed or outdated HDDs, SSDs, all kinds of RAIDs, USB Flash drives, camera memory cards, and tapes. Lots of businesses, organizations, and individuals in Kansas choose to deal with ACE Data Recovery because they know that the company's experienced professionals are able to recover their data as fast as possible and succeed where other companies fail.
ACE Data Recovery has proprietary labs with Class 100 clean rooms for HDD recovery that are equipped to perform any data recovery process without outsourcing. Also, the company guarantees comprehensive data verification process and quality control. ACE Data Recovery offers competitive transparent pricing that includes a free diagnostic evaluation and 'No data - No charge' guarantee.
What media would you like us to recover your data from?
Data Recovery Services for the Kansas Customers
ACEs have the knowledge and ability to address any data recovery needs. ACE Data Recovery has a nationwide reputation for industry leading results because they have helped thousands of individual users and businesses across the United States recover their valuable data from failed hard drives, SSDs, RAID, SAN, and NAS, USB Flash drives, tapes, and memory cards.
ACEs are ready to offer customers in Kansas premium data recovery services to meet their needs and budget. If you need access to your irreplaceable files quickly, call ACE Data Recovery to get a free consultation and speak with an expert about your case.
Cities in State of Kansas:
Derby
Dodge City
Emporia
Garden City
Gardner
Great Bend
Hays
Hutchinson
Junction City
Kansas City
Lawrence
Leawood
Liberal
Manhattan
Newton
Pittsburg
Prairie Village
Salina
Topeka
Wichita