Data Recovery Services in Idaho - Hard Drives, SSD, RAID Recovery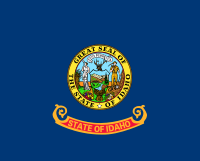 No matter how careful we are with our storage devices, data loss caused by human error and physical or logical failures of the storage media is often inevitable and it makes our life harder. To recover your vital files from failed hard disk drives, SSDs, servers, NAS, SAN, tapes, USB Flash drives, and memory cards, you need to contact a reliable professional data recovery service provider.
Many residents of Idaho prefer to deal with experienced professionals from ACE Data Recovery when they need to get their valuable files back. ACEs have technology and expertise to recover all forms of data from even the most troublesome devices.
Dealing with ACE Data Recovery means getting excellent services for fair prices
For over 35 years, ACE Data Recovery has served thousands of businesses, government offices, and personal computer users across the United States, providing data recovery services through an extensive network of offices and proprietary labs. With their state-of-the-art clean room facilities and qualified engineers, ACEs have the reputation of the leading data recovery service provider. The company's experienced engineers are hired all across the world and they are able to recover data from any type of the media device, including failed hard drives, solid-state drives, all kinds of RAIDs, camera memory cards, USB Flash drives, and tapes.
ACE Data Recovery team uses a combination of proprietary in-house technology with state-of-the-art industry leading equipment and offers competitively priced data recovery with the best success rate possible for all residents of Idaho. The company guarantees all inclusive price quote that will never increase and 'No data – No charge' policy.
What media would you like us to recover your data from?
Data Recovery Services for the Idaho Customers
When your storage media fails and you need access to your important Word documents, Excel spreadsheets, other office document file formats, photos, videos, and other irreplaceable files quickly, you can rely on ACE Data Recovery to get a perfect solution for all your data recovery needs. ACEs can perform data recovery of valuable data from failed hard drives, SSDs, USB Flash drives, memory cards, tapes, and all kinds of RAIDs for all customers in Idaho. With ACEs, you will get unmatched service quality and outstanding results.
You may only have one opportunity to successfully recover data from a failed storage media. If you have suffered a data loss, contact ACE Data Recovery support line for a free consultation and find out how the experienced professionals can help you.
Municipalities in State of Idaho:
Boise
Meridian
Nampa
Idaho Falls
Pocatello
Caldwell
Coeur d'Alene
Twin Falls
Lewiston
Post Falls
Rexburg
Moscow
Eagle
Kuna
Ammon
Chubbuck
Hayden
Mountain Home
Blackfoot
Garden City
Jerome