Data Recovery Services in Wisconsin - Hard Drives, SSD, RAID Recovery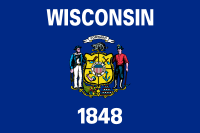 All storage media will eventually fail and, unfortunately, storage devices failures usually occur when you least expect them. Losing your important files and photos can be stressful and, to get them back, you will need a professional data recovery service provider that can ensure totally risk-free data recovery process. That's why many businesses and individual computer users in Wisconsin prefer to deal with ACE Data Recovery and ship their failed storage devices to company's labs. Lots of residents of Wisconsin know well that experienced professionals from ACE Data Recovery team can successfully perform data recovery from failed HDDs, SSDs, USB Flash drives, memory cards, tapes, RAID, SAN, and NAS without damaging the media device or data.
ACE Data Recovery has a nationwide reputation for industry leading results, a proven commitment to high-grade customer service, and advanced utilities and facilities to deal with plenty of different data loss scenarios effectively and produce results like no other company can when recovering data from failed hard disk drives, solid-state drives, all kinds of RAIDs, tapes, memory cards, and USB Flash drives.
Premium data recovery services at fair prices for businesses and individuals in Wisconsin
ACE Data Recovery engineers are the best in the data recovery industry. They have vast experience in recovering, repairing, and restoring lost data from any types of hard drives, SSDs, RAID arrays, USB Flash drives, tapes, and camera memory cards and can handle the most extreme situations of data loss. ACEs can turn complex problems into simple solutions and create highly specific software and hardware tools for unusual cases so the company's recovery rate on approved cases is the highest in the industry.
All recovery procedures are done in the company's labs with Class 100 clean rooms for HDD recovery and ACEs never outsource recovery projects to other companies. That makes the recovery process quick, efficient, and totally risk-free. Besides, ACEs have competitive transparent pricing and 'No data – No charge' policy. Also, ACEs guarantee comprehensive data verification process and quality control.
What media would you like us to recover your data from?
Take advantage of the best data recovery services in Wisconsin with ACE Data Recovery team
When your storage device fails and you need access to your irreplaceable files quickly, you can rely on ACE Data Recovery to provide an efficient service that is perfect for your unique situation. ACEs are ready to offer the personalized experience and outstanding results to all customers in Wisconsin and ensure a quick recovery of valuable files from failed HDD, SSDs, USB Flash drives, memory cards, tapes, and all kinds of RAIDs.
When your vital data is at risk, contact ACE Data Recovery support team for a free consultation and find out how ACEs can help you.
Municipalities in State of Wisconsin:
Milwaukee
Madison
Green Bay
Kenosha
Racine
Appleton
Waukesha
Eau Claire
Oshkosh
Janesville
West Allis
La Crosse
Sheboygan
Wauwatosa
Fond du Lac
New Berlin
Wausau
Brookfield
Greenfield
Beloit
Franklin
Menomonee Falls
Oak Creek
Manitowoc
Sun Prairie
West Bend
Fitchburg
Stevens Point
Superior city
Mount Pleasant