Data Recovery Services in Iowa - Hard Drives, SSD, RAID Recovery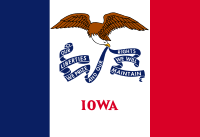 Modern technologies allow individuals and business in Iowa to store large amounts of personal and business-related data but, unfortunately, data loss is often inevitable because all storage devices eventually fall victims to logical or physical failures and all valuable files can get inaccessible. The only safe way to recover lost data is to rely on professional data recovery services provider that can ensure quick recovery of your important data from failed hard drives, solid-state drives, USB Flash drives, memory cards, tapes, and RAID arrays.
Businesses and individual computer users in Iowa rely on prompt and effective services from ACE Data Recovery team that offers personalized experience and professional results to its customers. ACE Data Recovery is a worldwide leader in providing data recovery services and offers a wide range of data recovery options to meet your data recovery needs.
Premium data recovery services at fair prices for businesses and individuals in Iowa
ACE Data Recovery has been providing quick and efficient services to a wide range of customers across the United States for more than 35 years and has earned a perfect reputation among its customers as the company with one of the highest recovery rates in the industry. ACE Data Recovery experienced engineers have knowledge and skill to successfully recover data from any type of storage media regardless of its brand, manufacturer, model and size and the cause of failure: hard disk drives, SSDs, USB Flash drives, memory cards, tapes, and all kinds of RAIDs. ACEs succeed where other labs fail because the company's engineers are one of the best in the industry and can create custom solutions for unusual cases.
The company has the most advanced equipment and facilities with Class 100 clean rooms for HDD recovery. ACEs perform all data recovery operations in the company's proprietary laboratories and never outsource recovery projects to other companies. The company guarantees comprehensive data verification process and quality control and provides totally risk-free data recovery services in a cost-effective manner. ACE Data Recovery offers a free professional diagnostic evaluation and 'No data – No charge' guarantee.
What media would you like us to recover your data from?
Data Recovery Services for the Iowa Customers
You may only have one opportunity to successfully recover your priceless data from a failed storage media. When a disaster strikes, make sure you choose the right company to get your priceless documents, photos and videos back from failed SSDs, HDDs, memory cards, tapes, RAID arrays and USB Flash drives. ACEs are ready to help residents of Iowa with their data recovery needs. Contact ACE Data Recovery support team to discuss with an expert how ACEs can help you.
Municipalities in State of Iowa:
Des Moines
Cedar Rapids
Davenport
Sioux City
Iowa City
Waterloo
Ames
West Des Moines
Council Bluffs
Ankeny
Dubuque
Urbandale
Cedar Falls
Marion
Bettendorf
Mason City
Marshalltown
Clinton
Burlington
Ottumwa
Fort Dodge
Muscatine
Johnston
Coralville
Waukee
North Liberty
Altoona
Clive
Indianola
Newton