Seattle, WA Data Recovery Services - Hard Drives, SSD, RAID Recovery
Advanced Data Retrieval Capabilities for Businesses and Individuals in Seattle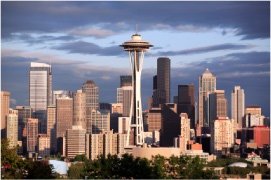 When living or passing through Seattle, at any point in the last ten years, it becomes obvious that Seattle has become the technological hub of Washington State. From the establishment of renowned computer hardware companies to the numerous different tech gatherings and conventions you only need to take a single look around in order to see that Seattle is something of a hub for technology of all kinds. It's somewhat unsurprising then, that Seattle should have such a large variety of different options when it comes to the data retrieval market. This high number of different competing companies, of course, brings a massive competing market into being, one which has dominated the Seattle scene for years now, subsequently confusing potential customers and people, just searching for a data retrieval services, alike. As a result of this, our company has decided to extend itself into Seattle to provide a viable alternative to current competing companies on the bloated market, and with the establishment of our services on 506 Second Avenue, you can reap the benefits of the opportunity our company provides.
Data Recovery Process: How It Works for Clients from Seattle
Free external hard drive or usb flash with each
completed
recovery
Our Data Recovery Experts Are Ready to Serve Customers from Seattle
For your convenience, ACE Data Recovery has an office in
Seattle, WA
. Whenever you're ready to start a free diagnostic evaluation of your media, call us at
877-304-7189
, bring your storage device to our Seattle, WA office, and be sure your data is in professionals hands.
Experienced Seattle, WA Data Recovery
Dealing with us is simple, first you can call us at 877-304-7189, so that you might get into touch with us yourself, and consult us on any problems or questions you might have regarding data retrieval. Next, you can bring down your internal or external hard drive, RAID, flash drive, or solid state drive and leave it in our Service Center. From there your storage device will be shipped to our technicians, who'll subsequently examine it, completely free of charge.
Data Recovery in Seattle, WA - Give us a Call to Get Started
Once the examination is complete, we'll contact you with a final quote of how much the retrieval will cost and how much time it will take, both of which depending on the extent to which the device is damaged. Should you choose to accept, we'll have our engineers begin working on recovering your precious data, a process which should probably be completed within the space of a week. Once the retrieval is complete, we'll send your data back to you on a free return media, with the delivery also being free of charge. This entire process is swift, and will be completed without any major fuss.
Just drop your storage media by at our aforementioned location, right next to Pioneer Square near 2nd Avenue.