Drobo Storage Product Recovery - RAID, NAS, iSCSI SAN Data Recovery
Drobo Storage recovery - RAID and Network Drives Data Data Recovery
When people chose data storage devices developed using the cutting-edge technologies, they hope their new drives will protect sensitive information from loss. Usually, those hopes come true. As for the unfortunate cases, there's ACE Data Recovery offering A-grade file recovery services to both corporations and households.
When it comes to reliable data storage devices capable to increase performance and storage capacity, it's time to think of Drobo data storage products. Using proprietary BeyondRAID technology, those drives can protect important files from loss even in case of multiple drive failures.
Drobo Direct Attached, Network Attached and iSCSI SAN drives are nonetheless physical storages using the advantage of RAID technology to organize files. As a result, they share the same pros and cons with other popular NAS and iSCSI SAN arrays. In other words, a sudden power surge, physical drive damage, failed firmware upgrade or careless user actions can result in temporary file loss.
Free external hard drive or usb flash with each
completed
recovery
When a nasty thing happens to your Drobo appliances, it's about time to call ACE Data Recovery for professional file recovery. To date, the company can recover readable data from the following Drobo products: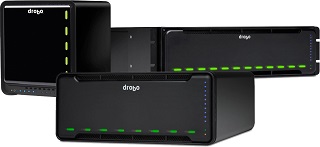 ACE Data Recovery is the world's leader in providing premium-class file recovery services. For more than 35 years of successful hands-on experience, a team of well-trained experts hired from all over the globe has developed wide range of strategies that allow to meet challenges other companies can't. Using the latest technologies, ACE Data Recovery can create case-specific tools and software pieces in order to improve chances of successful information recovery.
Drobo Storage data recovery: ACE Data Recovery experts can retrieve intact files back
To be honest, professional data retrieval has a serious weak spot: it can be pretty expensive. Especially when it comes to NAS, SAN, and iSCSI SAN recovery. On the other hand, permanent critical data loss can be disastrous for both businesses and average PC/Mac users. The good news is that ACE Data Recovery's basic services are affordable not only for large corporations, but also for small businesses and home-based network owners. As far as the company does without project outsourcing and relies on the in-house solutions, it offers professional services for a fair price.
In addition, the price policy of ACE Data Recovery is based on the following rule: No Data — No Charge. The point is, ACE Data Recovery charges users only for successfully completed cases.