LaCie Announces the 2TB DJI CoPilot Hard Drive
February, 2018
LaCie Announces the 2TB DJI CoPilot Hard Drive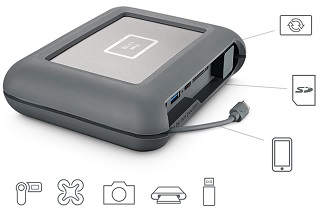 Seagate's premium brand, LaCie, and DJI have announced the 2 TB DJI Copilot BOSS USB 3.1 Type-C Hard Drive. The LaCie DJI Copilot is a portable hard drive for photographers and videographers who use camera drones. According to Seagate, the LaCie 2TB DJI CoPilot represents the second phase of the partnership with DJI that started at CES 2017.
The company says that users can expect to get 60 hours of 4K video at 30 frames per second or 20,000 raw images. They can directly copy data from USB storage devices (including USB-C), cameras, SD cards, and drones to the drive. The company claims that the hard drive has built-in drop, splash, and dust resistance, and has been designed specifically for use out in the field.
The company describes the new LaCie drive as a complete backup on-set solution (BOSS) that enables drone users to review their content without carrying around a laptop. The DJI CoPilot allows creative professionals and consumers to playback, copy and manage their drone footage from their mobile device without the hassle of leaving the field or booting up a computer.
Users can quickly connect and reference the built-in screen to initiate the direct file transfer from an SD card to LaCie DJI Copilot - without the need of a laptop or a mobile network. The Copilot BOSS (Back-up On-Set Solution) app by LaCie allows users to playback video in full resolution, manage, and organize files with their mobile phone or tablet, and a built-in power bank can recharge your mobile devices.
The DJI Copilot is compatible with mobile phones and tablets running iOS 10.3 or Android 4.4 or later, as well as systems running Windows 10 or higher and Mac OS X 10.10 or higher with an available USB 3.1 Type-C, Thunderbolt 3, USB 3.0, or USB 2.0 port.
Lacie's DJI Copilot portable hard drives are perfect for video pros but, like all hard drives, they are vulnerable to logical and physical failures that can make irreplaceable videos and photos inaccessible. To get their photo and video files back, their owners will need to contact a professional data recovery service provider they can rely on.
Experienced engineers of ACE Data Recovery team are able to recover data from any type of storage media regardless of the cause of failure. ACEs have cutting-edge utilities and facilities and develop custom solutions for unusual cases so they can recover data that other companies can't. ACE Data Recovery makes the best choice when you need to recover data from any type of storage device.