Micron Launched a Full Form Factor Line of 7400 PCIe Gen4 NVMe SSDs
October, 2021
Micron Launched a Full Form Factor Line of 7400 PCIe Gen4 NVMe SSDs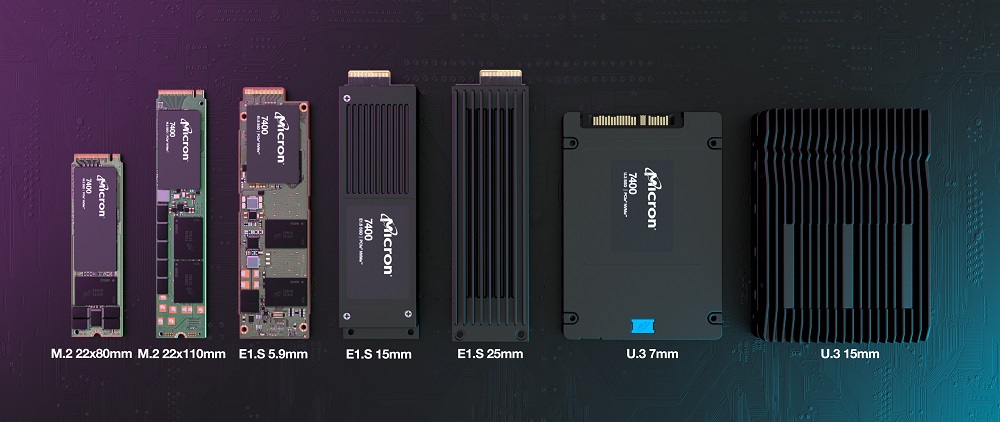 Micron has launched its enterprise-class 7400 series NVMe SSDs. The 7400 family of SSDs are based on Micron's 96-layer 3D TLC NAND technology, which is compatible with NMVe version 1.4. Featuring seven form factors, the Micron 7400 SSDs enable the transition to next-generation server architectures. The form factors include two small M.2 cards for tablets and ultrabooks, three U.3 configurations for server-mounted drives, and two configurations for the rack-mountable E1.S.
The Micron 7400 SSDs include the only PCIe Gen4 M.2 22x80mm with power loss protection, as well as 2.5" U.3 data center SSDs in both 15mm and 7mm thicknesses. They also feature three different sizes of the new E1.S Enterprise and Data Center SSD Form Factor (EDSFF), enabling greater density, flash-optimized performance, and improved power and cooling options. Capacities range from 400GB in the smallest 80mm M.2 drives to 7.68TB in the U.3 15mm form factor.
According to Micron, the 7400 SSDs deliver twice the throughput of third-gen NVMe drives for the same amount of energy. They are also compatible with those PCIe Gen 3 drives, simplifying the transition from Gen3 to Gen 4.
Each SSD drive supports up to 128 namespaces to increase scalability. That enables customers to use them with a wide variety of SQL, NoSQL, block storage, object storage, and software-defined storage implementation. The Micron 7400 series NVMe SSDs also support the Open Compute Project (OCP) standard, which should help improve compatibility and interchangeability with other SSD drive makers that support OCP.
The new drives also support TCG-Opal 2.01 and IEEE-1667, which are new standards for protecting data while it's in-flight and at-rest. The company also touted the development of its Secure Execution Environment (SEE) that can help isolate and process security transactions to extend protection against evolving threats.
The new Micron 7400 series NVMe SSDs offer high performance and security to meet the storage needs of demanding data center workloads, they can also fall victim to logical and physical failures that can result in data loss. To get their critical data back, their owners will need to contact a professional data recovery services provider like ACE Data Recovery team. ACEs can successfully recover data from all types of SSD drives and are ready to help the Micron 7400 series NVMe SSD data recovery needs.