QNAP NAS Recovery - RAID NAS Data Recovery
QNAP NAS recovery - RAID Data Data Recovery
ACE Data Recovery, the world's leader in providing professional file recovery services to corporate and individual users, offers the full set of technical solutions for the A-grade QNAP network attached drives recovery.
Combining the latest technologies with more than 35-years' experience, a team of certified specialists hired from all over the world, can deal even with hopeless drives and recover sensitive information from failed QNAP NASs other companies can't. All that needed is to call ACE Data Recovery support line and provide details of the issue.
The major task of QNAP Systems, Inc. is to produce the cutting-edge network attached storages reliable and capacious enough to meet the essential needs of small, medium, large businesses and home-based networks. Easy-to-use and reliable technical solutions, offered by QNAP are designed to improve business efficiency and make data processing/storage both safe and comfortable.
Just like other network attached storages, QNAP NASs feature RAID technology in order to provide access to data storage devices within a corporate or home network. This, in turn, means, QNAP products are vulnerable to many failures inherent in traditional RAID arrays. A sudden power cut, failed RAID controller or trivial human error may have serious consequences including temporary data loss.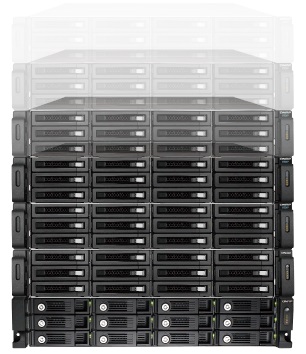 QNAP NAS data recovery: ACE Data Recovery experts can retrieve intact files back
In addition to the A-grade network attached storages and network video recorders, QNAP offers expansion units: efficient solutions that allow to extend the current server capabilities and even add new ones.
When all files on a QNAP NAS get inaccessible, the only sure way to get them back safe and sound is to call for ACE Data Recovery. The company can boast of more than three and a half decades of successful hands-on experience in field of file recovery. Qualified engineers have all the necessary equipment to cope with the most serious cases of data inaccessibility. In addition, ACE Data Recovery is the only US company capable to develop case-specific tools and software pieces in order to improve the chances of success and save intact information from corruption and permanent loss.
Basic file recovery services provided by ACE Data Recovery are affordable not only for businesses but also for individual PC/Mac owners. This is due to the fact that ACE Data Recovery does without project outsourcing and performs data recovery operations in-house. As a result, company customers can get the first-class services for a fair price.