G-Technology Has Been Rebranded as SanDisk Professional
June, 2021
G-Technology Has Been Rebranded as SanDisk Professional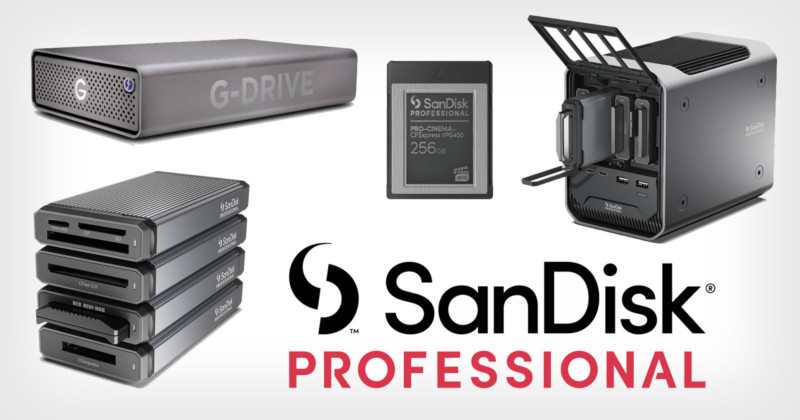 Western Digital announced that its G-Technology line of premium professional storage products will be rebranded as SanDisk Professional. The iconic "G" logo and product design will remain until new models branded with the new SanDisk Professional name will arrive.
The new SanDisk Professional line combines the legacies of the world-renown SanDisk consumer brand as well as the pro-oriented G-Technology brand, which has been the storage choice of Hollywood professionals for decades. The SanDisk Professional lineup now comprises 16 modular workflow products with professional-grade performance and enterprise-class reliability. The first products under the new SanDisk Professional name are the PRO-CINEMA CFexpress VPG400 card, PRO-READERs, and PRO-DOCK 4 Thunderbolt 3 reader docking station.
PRO-CINEMA CFexpress VPG400 card was designed to keep pace with cameras that demand a minimum of a consistent 400MB/s write speed. A PRO-READER series consists of 4 new devices that feautre the USB-CTM interface, capable of SuperSpeed USB 10Gbs speeds. They are designed to work with latest and most common camera media including CFastTM, CFexpress, RED Mini-Mag, CF, microSDTM, and SDTM cards.
Additionally there's a PRO-DOCK 4, a new 4-bay reader docking station that provides a scalable solution for offloading data, especially when working with multiple cameras. The station allows content creators to simultaneously offload from four cards.
The G-Technology family of professional-grade products is now part of the SanDisk Professional stable. In addition to the existing line of ultra-rugged portable drives, desktop devices featuring Ultrastar drives, and transportable RAID solutions, the SanDisk Professional portfolio also includes a new 4TB G-DRIVE ArmorLock Encrypted NVMe SSD.
The SanDisk Professional portfolio is expected to be available in June.