Discover Transcend's New Portable SSD: The ESD310C
April, 2023
Discover Transcend's New Portable SSD: The ESD310C
Transcend Information, Inc. has just released their smallest portable SSD yet, the all-new ESD310C. This lightweight device is similar in size to a pen drive and offers an impressive transfer rate of USB 10Gbps, allowing for fast speeds of up to 1050MB/s, and can save up to 1TB of data using its USB Type-A and Type-C connectors. With compatibility across a range of devices including desktops, laptops, tablets, smartphones, and even next-gen gaming consoles, the ESD310C is an ideal choice for users with multiple electronic devices.
The ESD310C portable SSD features cutting-edge SLC Cache technology and a super-fast 10Gbps transfer rate, delivering blazing read/write speeds of up to 1050/950 MB/s. This small but mighty device makes large file transfers worry-free, effectively giving you the power of a mini SSD in the palm of your hand. The ESD310C is also backward compatible with USB 2.0 & 3.0, making it accessible and easy to use.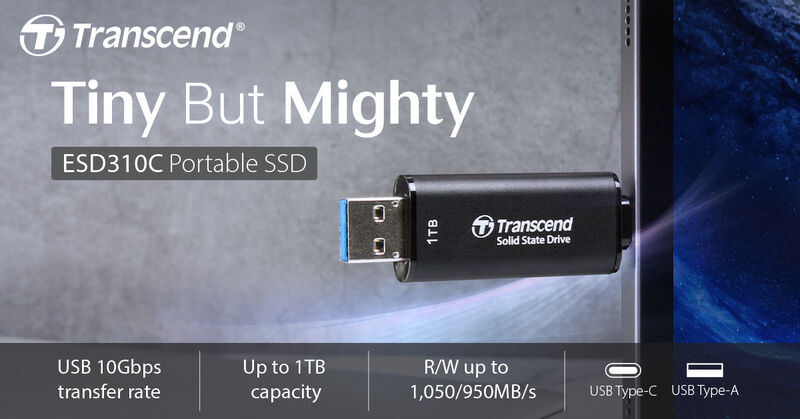 Housed in a lightweight yet sturdy aluminum case, the device provides superior heat dissipation and excellent protection for stored data. More importantly, the powerful ECC (Error Correction Code) functionality enables higher data stability, ensuring that your data is always safe and secure. The ESD310C Designed to comply with a transfer rate of up to 10Gbps, thanks to the built-in SLC Cache technology. Weighing at only 11 grams, Transcend's ESD310C may be tiny, but it's a behemoth of a machine. It can carry an astonishing 1TB of data, including 4K videos, full HD photos, and gaming files. With such a portable design, you can take an entire multimedia library with you on the go.
The ESD310C comes with both USB Type-A and reversible Type-C connectors, supporting various devices such as laptops, desktops, tablets, smartphones, and gaming consoles. This 2-in-1 design makes it easy to transfer files across your Type-C and Type-A devices, simply plug it into your device without the need for a cable, and you can immediately enjoy fast file transfer. The drive is also compatible with Windows, macOS, iPadOS, and Android systems, making data transfer not just easier but more accessible to users.
The Transcend ESD310C provides up to 1TB of storage capacity, making it a convenient and efficient option for those looking to expand their storage space. Its incredible versatility and compatibility with multiple devices and operating systems provide ultra-fast transfer speeds and extra-large capacity expansion for PCs, laptops, tablets, smartphones, and gaming consoles.
However, before purchasing, please ensure your mobile devices support USB OTG and check the compatibility requirements set out by game console vendors for external storage. Additionally, the ESD310C comes formatted in the exFAT file system, and certain mobile devices require FAT32, so ensure you format the ESD310C to FAT32 where applicable before use.
The sturdy aluminum casing keeps your data safe and intact wherever you go, and the built-in ECC functionality provides superior stability for data storage. Carrying a sleek black portable SSD adds a touch of modernity to any tech-savvy individual. Transcend's storage devices feature exclusive disk lock and security functions, which work on both Windows and Android systems. With Transcend Elite software, you can protect your entire drive and the important files inside with password protection, providing you with peace of mind.
Finally, the ESD310C is covered by a five-year limited warranty, and to ensure the utmost level of quality, Transcend SSDs undergo rigorous testing at all stages of production, including tests for vibration, temperature, humidity , speed, and functionality.
Transcend SSDs are known for their high-quality performance, robustness, and durability. However, data loss can occur due to various reasons, such as human error, power outages, malware attacks, or hardware failures. In such situations, ACE SSD data recovery services can help you recover lost or inaccessible data from your SSD. With advanced data recovery techniques and state-of-the-art equipment, data recovery experts can recover data from various Transcend SSD models and capacities. They can retrieve files such as documents, photos, videos, and music from damaged, corrupt, or formatted SSDs. ACE's SSD data recovery services offer quick and reliable solutions to help you recover your precious data and get back to your daily routine.