Bethesda, MD Data Recovery Services - Hard Drives, SSD, RAID Recovery
Advanced Data Retrieval Capabilities for Businesses and Individuals in Bethesda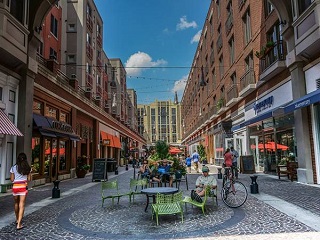 Have you ever lost your files? If no, congratulations! If yes, you certainly know how desperate you feel when you're not sure if they can be restored. Whatever you lose - important client bases, children's photos, newly written texts or something else - it is equally offensively. And sometimes data loss can cause not only trouble but extraordinary expenses if you lose business information.
The best way to solve the problems connected with data loss is to find a reliable and professional company that can cope with data recovery. Of course you can try to restore it without assistance but the results might be quite unpredictable. ACE Data Recovery is a company that can help you and recover your data even in the most difficult cases. Our company is a Microsoft Registered Partner and has 30 years of experience in data restoration field .
That means if you need data recovery service in Bethesda, MD, our office is waiting for you and your device.
Free external hard drive or usb flash with each
completed
recovery
Our Data Recovery Experts Are Ready to Serve Customers from Bethesda
For your convenience, ACE Data Recovery has an office in Washington, DC. Whenever you're ready to start a free diagnostic evaluation of your media, call us at 1-877-304-7189, bring your storage device to our Washington, DC office, and be sure your data is in professionals hands.
Washington, DC ACE Data Recovery
temporary closed
We sencirely apologize for the inconvenience.
For inquiries, call toll free: +1
877-304-7189
Email:
Customer Service
Please, contact our
Dallas-Fort Worth
office for any inquiries.
What is the process of data recovery at Bethesda, Maryland?
No matter what is the reason of data loss - accidentally file removing or damaging the media storage. First bring it to our office to get the results of free diagnostics. After defining the reason and ways of repairing, we can tell the price. If you find it acceptable, we begin the work. Then you get your successfully recovered files on free media and are always welcome for free customer support.
Why is it right choice to appeal to ACE Data Recovery Bethesda, MD? - Give us a Call

Our company is famous for the capability to recover the data even when others have given up. We hire just the best specialists who are not only talented but skilled and experienced. The equipment we use is innovative and extremely accurate so you can sleep easily and wait for your data.
We take care not only of your files and time but also of your money. The result is guaranteed due to the simple approach: no data - no payment. You pay just for the result, not for the attempts.
If you're afraid to entrust your valuable information to the unknown people, be sure that our reputation is of great importance for us. Your data is in the reliable hands.
We work with different kinds of media storages. I you need more details feel free to contact us and ask all the questions.
ACE Data provides hard drive recovery on a full range of HDDs including internal and external hard drives of all sizes, makes and models.Our staff have decades of experience in retrieving your files from servers, desktops, laptops or recover external hard drive. Never assume that data on your hard drive was lost forever, no matter what it has been through. We can retrieve any data even from storage devices that other data recovery companies deem "unrecoverable".
ACE Data performs recovery services on a full range of solid state drives on any NAND flash memory technologies for all makes and models of laptops, desktop and network storages. Solid state storage devices have no moving parts, so this creates the wrong impression that data is much safer on an SSD. However, this is not the case. SSDs are more vulnerable to some defects than typical HDDs are. SSDs have a limited number of write cycles, leading to potential data loss.
Our dedicated team of RAID data recovery engineers is trained to handle all of the current RAID hardware platforms as well as SAN and NAS appliances commonly utilized in the market today. ACE Data Recovery has extensive experience in recovery from failed RAID's, including parity-distributed and basic spanned or striped volumes. We only require the active members of the array in order to recover lost data - no controllers, cables or enclosures..
ACE Data Recovery has the experience, tools and knowledge base to retrieve your data whether you have a iMac, Mac Pro or Macbook of any model. We don't just recover your individual treasured photos and videos and return them to you in one big unorganized cluster. Unlike the services of our competitors, our data recovery process involves the total retrieval of your library fully intact, not just the individual files. At ACE Data Recovery we know how to rescue and reassemble the broken Time Machine puzzle as well.
We are able to recover your data from various brands, types of media and technologies, including, but not limited to: