San Francisco, CA Data Recovery Services - Hard Drives, SSD, RAID Recovery
Advanced Data Retrieval Capabilities for Businesses and Individuals in San Francisco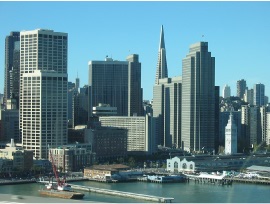 San Francisco is one of the cities which are in the direct path of the neo-industrial tech boom, which is currently sweeping cities across the Western world, with the city now transcending the renowned and outstanding tech hub Silicon Valley in terms of growth in its tech-related job sector. Many companies have flourished in the San Francisco area, prospering alongside thousands of other companies of both little and great fame. As a result of all of these IT related occupations and businesses which have sprouted up in recent years, data recovery has a very vast sphere of influence in the Frisco area, with multiple computer repair ships, all offering their data retrieval services. As a professional and trusted data recovery company, ACE Data Recovery is offering you and others seeking to retrieve their data from a hard disk, RAID, SSD, or flash drive with one of the smoothest and cost-attractive services on the market.
Data Recovery Process: How It Works for Clients from San Francisco
Free external hard drive or usb flash with each
completed
recovery
Our Data Recovery Experts Are Ready to Serve Customers from San Francisco
For your convenience, ACE Data Recovery has an office in
San Francisco, CA
. Whenever you're ready to start a free diagnostic evaluation of your media, call us at
877-304-7189
, bring your storage device to our San Francisco, CA office, and be sure your data is in professionals hands.
Experienced San Francisco, CA Data Recovery
Should you choose to deal with us, you can first call us via the following number: 877-304-7189. We will give you answer to any questions you might have regarding our prices and procedures. Should you feel satisfied with the answers we've given you, you can then proceed to head on over to that aforementioned address and drop off your damaged device with us. Once we have your device, we'll send it out to our team of
data recovery expert
s, who will examine your device completely free of charge, so that they might give you the cost and time it will take to recover your data in its entirety.
Data Recovery in San Francisco, CA - Give us a Call to Get Started
Once we have this final cost, we'll contact you with the details and, should you choose to accept our terms, begin the data recovery process, which is usually complete within the space of a week. We will then copy it to a free return media and have it shipped back to you, free of charge, and you may begin using it once again. Should you choose not to accept our terms, we'll send your device back to you for only $25.
If you've got issues
recovering data from your hard drive, flash drive, RAID drive, tape, or solid state drive,
you can head on over to our Service Center on Montgomery Street, near the Hilton Financial District, and we'll help you recover your data in the most efficient way.