Phoenix, AZ Data Recovery Services - Hard Drives, SSD, RAID Recovery
Advanced Data Retrieval Capabilities for Businesses and Individuals in Phoenix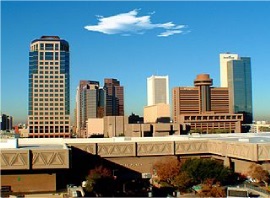 Living in Phoenix can prove to be slightly difficult, when it comes to the subject of finding you the greatest deal regarding data recovery services. Phoenix, is just one of many places where the neo-industrial age has swept through every industry and job market, causing major shifts in the way in which businesses conduct their affairs, as most have shifted away from more manual methods of data storage, in favor of more digital means of work and data storage. As a result of this, many different data recovery services have appeared in recent years, all competing to gain the best of the consumer market. As a result of this, many different products and service qualities are thrust at anyone whom dares to dive into this data recovery market, in the simple hopes of recovering data from their damaged internal or external hard drives, RAIDs, soli state drives, flash drives, or other data storage devices, often leaving this without a clear idea of what might be the best service to them. We, at ACE Data Recovery, have witnessed this plight, and have subsequently extended our services into Phoenix, in the hope of offering a swift and straightforward alternative, via our newly established Service Center.
Data Recovery Process: How It Works for Clients from Phoenix
Free external hard drive or usb flash with each
completed
recovery
Our Data Recovery Experts Are Ready to Serve Customers from Phoenix
For your convenience, ACE Data Recovery has an office in
Phoenix, AZ
. Whenever you're ready to start a free diagnostic evaluation of your media, call us at
877-304-7189
, bring your storage device to our Phoenix, AZ office, and be sure your data is in professionals hands.
Experienced Phoenix, AZ Data Recovery
Dealing with us is simple, first call us up at our Phoenix Service Center via this number 877-304-7189, so you can speak with us directly regarding any questions you might have surrounding the data recovery process and our company in general. Next, should we have answered your questions over the phone, you can head over to our Service Center at Suite 2200 on 20 East Thomas Road, with your damaged data storage device, and proceed to deposit your device, and from there we'll transfer it to our team of skilled data recovery engineers, who'll perform a free examination of your device in order to discover the extent to which the damage has affected the information on the device, estimating both the time it will take to recover your data and the final cost of said process.
Data Recovery in Phoenix, AZ - Give us a Call to Get Started
We will then get back to you and, should you accept our terms, begin the recovery process, a process which should typically be completed within 2-5 business days. Once this is done, we'll ship it back to you, free of charge. This entire process will be unhindered, simple, and ultimately fruitful for anyone looking to recover their data.
Come stop by at our new service, right off of the E Thomas Road, near the Abacus Tower.