Boston, MA Data Recovery Services - Hard Drives, SSD, RAID Recovery
Advanced Data Retrieval Capabilities for Businesses and Individuals in Boston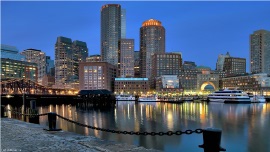 Living in Boston is something which can prove fortunate to you, depending on your location, when it comes to the matter of data recovery. There are hundreds computer repair companies, each one providing competition to the other in the data recovery market. With all of these options available, it can be difficult to find the data recovery service that's greatest in terms of efficiency, and cost effectiveness - this is something we seek to remedy. Recently, we've had the good fortune to have been able to open a Service Center in Boston and to establish our own data recovery service site, right on 800 Boylston Street, and thus have made our services, regarding the recovery of data from damaged hard drives, RAIDs, tapes, and flash drives, available as a fearsome contester on Boston's data recovery market.
Data Recovery Process: How It Works for Clients from Boston
Free external hard drive or usb flash with each
completed
recovery
Our Data Recovery Experts Are Ready to Serve Customers from Boston
For your convenience, ACE Data Recovery has an office in
Boston, MA
. Whenever you're ready to start a free diagnostic evaluation of your media, call us at
877-304-7189
, bring your storage device to our Boston, MA office, and be sure your data is in professionals hands.
Experienced Boston, MA Data Recovery
Recovering data with us is simple and easy. First just head on over to 800 Boylston Street, where you'll find us on the 16th floor, near downtown Boston, with your damaged storage device. Here you can drop it off and, so it can then be delivered to our
data recovery technicians
. We'll give you a free evaluation of your device, examining the damage done, and estimating the time and resources it'll take to recover that data, offering you the best prices we can barter, unlike on certain other areas of the market, where you're more liable to be offered nothing but the higher prices.
Data Recovery in Boston, MA - Give us a Call to Get Started
Should you choose to accept the terms that we extend to you, regarding cost and time, it'll then take a few days for us to access your device and recover the data, after which we'll send it back to you with no extra packaging costs. This process should not take much more than five days, and will mostly be completed in under that period. The process of you dropping it off, us picking it up, evaluating the device, recovering your data, and sending it back to you, is a simple and efficient one and we pride ourselves in reducing any hassle, where possible. You can even call us up first, at 877-304-7189, to arrange things beforehand.
Our newly opened Boston data recovery service is conveniently located right next to the Back Bay Social club, and the Massachusetts Turnpike, giving you easy access, via car or bus, on the main road.