QNAP SMB Middle-range NAS series Recovery - RAID NAS Data Recovery
QNAP SMB Middle-range NAS recovery - RAID Data Data Recovery
ACE Data Recovery, the leading file recovery services provider in the industry, offers a full set of professional solutions for the professional QNAP Middle-range NAS recovery. Solutions used by the team of certified technicians hired from all over the world allow to piece file particles together and recover intact data even from hopeless QNAP Middle-range network attached storages.
QNAP Middle-range network attached storages are designed to meet needs of small and middle businesses. In fact, the storages make an affordable option for companies looking for a reliable all-in-one platform for regular data backup, disaster recovery and file processing.
QNAP Middle-range NASs support SMB/CIFS, NFS, AFP protocols which makes them perfect for cross-platform (Windows, Mac, Linux/UNIX) file sharing and improves the network performance.
QNAP SMB Middle-range NAS data recovery process: how it works for our clients
1.

YOU BRING

Bring or ship your failed storage media to our office for a free diagnostic evaluation.
2.

YOU APPROVE

Receive and approve an all-inclusive quote, so we can start the process immediately.
3.

WE RECOVER

Give us few days to recover your data and to copy it to a free return media.
4.

WE DELIVER

Get your data back, copy it to your computer and benefit from our free post-recovery support.
Free external hard drive or usb flash with each
completed
recovery
On the other hand, there's no such thing as a perfect storage drive. Just like other data storage/processing devices, QNAP Middle-range network attached storages have a weak spot: they use the advantage of RAID technology and share both pros and cons with the traditional RAID arrays. In other words, a sudden power cut, inadvertent RAID volume reconfiguration, failed RAID controller may cause a dangerous situation and result in temporary data loss. With this in mind, making regular data backups is a good habit that can help to prevent big troubles.
Our Experts are Ready to Recover Data from Your Failed QNAP SMB Middle-range NAS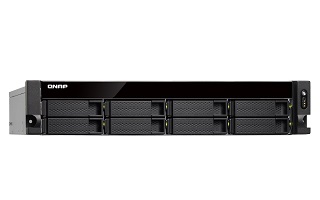 When files get inaccessible or even deleted (not overwritten) from QNAP Middle-range NAS, it doesn't mean they are lost forever. Not at all! First of all make sure you have the most recent data backup around to restore vital information as soon as possible. If there's no backup file or it is severely corrupted and can be used for file recovery, it is about time to call ACE Data Recovery for help.
Combining unique technologies with more than 35-years' experience, ACE Data Recovery can deal with the most serious cases of data inaccessibility and recover information from data storage devices considered irrecoverable by other companies.
QNAP SMB Middle-range NAS data recovery: ACE Data Recovery experts can retrieve intact files back
In addition, price policy of ACE Data Recovery is based on the following easy-to-remember rule: "No data — no charge". In other words, company customers pay only for the amount of saved files. As for the service prices, ACE Data Recovery can do without third-party assistance and project outsourcing which means computer owners can order QNAP Middle-range NAS recovery services for the best price in the industry.
When your QNAP Middle-range NAS is in trouble, try to calm down and avoid from DIY recovery attempts. At best, all you can do is give a call to ACE Data Recovery's support line.