QNAP High-end SMB NAS series Recovery - RAID NAS Data Recovery
QNAP High-end SMB NAS recovery - RAID Data Data Recovery
Professional assistance with critical information recovery is what most modern business owners need in order to keep thing going and prevent businesses from nasty data-related surprises. Qualified QNAP High-end NAS recovery is one of the A-grade services ACE Data Recovery offers to corporate users.
To recover intact files from a failed QNAP High-end NAS, ACE Data Recovery experts rely on unique solutions developed onsite. Every case of temporary data loss require lots of qualified attention and specific tools. Fortunately ACE Data Recovery is equipped well enough to develop case-specific tools and software pieces in order to access and recover files other companies can't. That's right! Professional QNAP High-end NAS recovery start with the first call to ACE Data Recovery's support line.
QNAP High-end SMB NAS data recovery process: how it works for our clients
1.

YOU BRING

Bring or ship your failed storage media to our office for a free diagnostic evaluation.
2.

YOU APPROVE

Receive and approve an all-inclusive quote, so we can start the process immediately.
3.

WE RECOVER

Give us few days to recover your data and to copy it to a free return media.
4.

WE DELIVER

Get your data back, copy it to your computer and benefit from our free post-recovery support.
Free external hard drive or usb flash with each
completed
recovery
High-end network attached storages were developed by QNAP specialists to meet the essential needs of companies taking a good care of vital information. QNAP High-end NAS series is an optimal choice for businesses seeking reliable platforms for cross-platform data sharing, disaster recovery and systematic data backup. Supporting SMB protocol, High-end NASs make file sharing comfy and easy for both PC and Mac users.
Our Experts are Ready to Recover Data from Your Failed QNAP High-end SMB NAS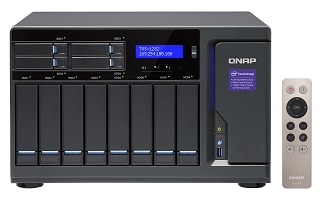 But here's the funny thing: QNAP network attached storages use the advantage of RAID technology. That means, one fine day all crucial files on a server may get inaccessible on even overwritten because of RAID controller malfunction, multiple disk failure, missing RAID partitions or careless staff actions. Sad but true.
Fortunately, ACE Data Recovery experts are here to help you with getting critical information from faulty QNAP High-end NAS. With more than 35 years of successful hands-on experience, a team of certified technicians hired from all over the globe is capable to come up with the most efficient solution to retrieve intact data partitions back safe and sound.
QNAP High-end SMB NAS data recovery: ACE Data Recovery experts can retrieve intact files back
Even if the drives are severely damaged or files were accidentally removed from server, that means nothing for ACE Data Recovery experts. Those guys have lots of aces up on their sleeves and can deal with the hardest cases of data inaccessibility or temporary loss.
It may seem like ACE Data Recovery services are very expensive. Well, the first-class data recovery services don't come cheap, indeed. At the same time ACE Data Recovery offers the unbeatable price for QNAP High-end NAS recovery. The trick is, the company can easily do without project outsourcing which makes services affordable not only to large corporations, but also for home-based businesses and individual PC/Mac owners.