QNAP Thunderbolt NAS series Recovery - RAID NAS Data Recovery
QNAP Thunderbolt NAS recovery - RAID Data Data Recovery
When there's an urge to retrieve vital information from a failed QNAP Thunderbolt NAS it's not enough to be an IT-savvy geek with the extensive DIY experience. The point is, successful QNAP Thunderbolt NAS recovery requires more than enthusiasm and willingness to experiment. Moreover, insistence on DIY methods may have irreversible consequences: severe files corruption/overwriting or permanent data loss.
The most reliable way to fix data-related problem is to entrust failed QNAP Thunderbolt NAS to certified specialists making the core of ACE Data Recovery. Those experts hired from all over the world have more than 35 years of successful experience in field of data retrieval. Be it a failed data storage device or just a piece of hi-tech junk, ACE Data Recovery has enough solutions to recover intact information in one piece. And if that's not enough, then company's engineers can develop case-specific tools and software pieces in order to complete the task.
QNAP Thunderbolt NAS data recovery process: how it works for our clients
1.

YOU BRING

Bring or ship your failed storage media to our office for a free diagnostic evaluation.
2.

YOU APPROVE

Receive and approve an all-inclusive quote, so we can start the process immediately.
3.

WE RECOVER

Give us few days to recover your data and to copy it to a free return media.
4.

WE DELIVER

Get your data back, copy it to your computer and benefit from our free post-recovery support.
Free external hard drive or usb flash with each
completed
recovery
QNAP Thunderbolt network attached storages feature Thunderbolt technology and are specially designed to meet specific requirements of media creators and companies processing tons of crucial information on a daily basis. Also Thunderbolt NASs support SMB protocol which allows to access important files in a jiffy: fast and easy, as if data were on a local storage device.
Our Experts are Ready to Recover Data from Your Failed QNAP Thunderbolt NAS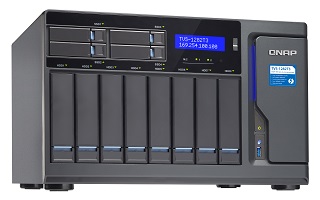 On the other hand, QNAP Thunderbolt NASs also use RAID technology which makes it possible to combine all network storage devices together and provide 24/7 access to crucial files. The problem is, RAID technology may fall victim to a logical or physical failure including a power surge, server crash, missing RAID partitions or careless human actions. As a result, critical information may get inaccessible, severely corrupted or overwritten.
When crucial files are corrupted or overwritten, it can be considered that data is permanently lost. There's nothing you can do in this situation. However, when data is inaccessible or accidentally deleted without drives formatting, there's a chance to retrieve temporary lost info back safe and sound.
QNAP Thunderbolt NAS data recovery: ACE Data Recovery experts can retrieve intact files back
Professional data recovery is the specialty of ACE Data Recovery. Combining unique technologies with the extensive hands-on experience qualified technicians do their best to piece the tiniest parts of intact information together and recover vital files from hopeless QNAP Thunderbolt network attached storages.
In addition to the A-grade services, ACE Data Recovery offers the unbeatable service price. The fact that ACE Data Recovery does without third-party assistance means the company customers get professional file recovery services for a fair price.