QNAP Enterprise ZFS NAS series Recovery - RAID NAS Data Recovery
QNAP Enterprise ZFS NAS recovery - RAID Data Data Recovery
File recovery from failed QNAP Enterprise ZFS NAS is safe and easy when you leave it to certified specialists having extensive experience in field of data retrieval. ACE Data Recovery experts hired from all over the globe have all the necessary know-how to recover intact files even from hopeless data storage devices. QNAP Enterprise ZFS NAS recovery is one of the professional services you can order in a jiffy. All you need is to call ACE Data Recovery support line and provide details of your issue.
Network attached storages become more and more popular among corporate and individual users. That makes sense because NASs allow to extend the storage space available to a single PC/Mac or connect all data storage devices in a corporate network to make file processing lightning fast, safe and comfortable.
QNAP Enterprise ZFS NAS is surely a great option for business owners. Featuring dual active-active controllers, it leaves no room for downtime and makes critical data available 24/7.
QNAP Enterprise ZFS NAS data recovery process: how it works for our clients
1.

YOU BRING

Bring or ship your failed storage media to our office for a free diagnostic evaluation.
2.

YOU APPROVE

Receive and approve an all-inclusive quote, so we can start the process immediately.
3.

WE RECOVER

Give us few days to recover your data and to copy it to a free return media.
4.

WE DELIVER

Get your data back, copy it to your computer and benefit from our free post-recovery support.
Free external hard drive or usb flash with each
completed
recovery
On the other hand, QNAP Enterprise ZFS NAS uses the advantage of RAID technology which makes the drive vulnerable to hardware and software failures. RAID configuration corruptions, controller failure, accidental swap of media, data overwriting may cause lots of troubles. That is why it is highly recommended to backup all important information on a regular basis and keep the most recent backup file around. Just in case.
Our Experts are Ready to Recover Data from Your Failed QNAP Enterprise ZFS NAS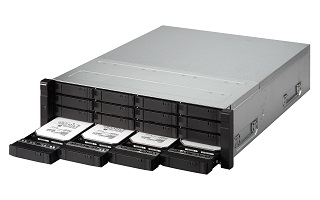 Still, it may also happen that backup file becomes corrupted. Fortunately, when files get inaccessible or accidentally deleted (not overwritten ) from QNAP Enterprise ZFS NAS, there is a chance to reverse the situation and recover intact files safe and sound. The main thing here is to refrain from using DIY solutions and contact professional data recovery services provider as soon as possible. Remember, timing means a lot when it comes to data saving.
ACE Data Recovery is the best choice for both business owners and individual PC/Mac users having data-related issues with QNAP Enterprise ZFS NASs. Combining high technologies with more than 35-years' experience, qualified technicians are ready to deal with the most serious cases of temporary data loss.
QNAP Enterprise ZFS NAS data recovery: ACE Data Recovery experts can retrieve intact files back
Using the advantage of the proprietary tools and software pieces, ACE Data Recovery can do without third-party assistance, which makes basic company's services affordable for really wide range of the computer owners. So if you really want to get your files back from failed QNAP Enterprise ZFS NAS, ACE Data Recovery is the most reliable company capable to accomplish such a delicate work.