QNAP SAS NAS series Recovery - RAID NAS Data Recovery
QNAP SAS NAS recovery - RAID Data Data Recovery
ACE Data Recovery, the leading company in file recovery industry, offers proven solutions for the safest QNAP SAS NAS recovery to corporate users seeking a chance to get priceless data back from failed drives. Using the advantage of the latest technologies, the team of experienced technicians can recover intact files from QNAP SAS NAS in one piece.
QNAP SAS-enabled network attached storages were created to make life easier for businesses processing tons of important information every day. Featuring SAS technology makes QNAP drives more affordable in comparison with other NASs. That is why QNAP SAS NASs are perfect for companies seeking a compromise between hardware cost and performance.
QNAP SAS NAS data recovery process: how it works for our clients
1.

YOU BRING

Bring or ship your failed storage media to our office for a free diagnostic evaluation.
2.

YOU APPROVE

Receive and approve an all-inclusive quote, so we can start the process immediately.
3.

WE RECOVER

Give us few days to recover your data and to copy it to a free return media.
4.

WE DELIVER

Get your data back, copy it to your computer and benefit from our free post-recovery support.
Free external hard drive or usb flash with each
completed
recovery
Just like other network attached storages, QNAP SAS NASs use the advantages of RAID technology to keep things going in a corporate network. That means, QNAP drives share the same risks with the traditional RAID including missing RAID partitions, failed controllers, failed RAID volume rebuild, server crash and multiple HDD failure.
Perhaps, the best way to avoid data-related problems is to backup vital information on a regular basis. Whatever the reason of a failure, when critical files on QNAP SAS NAS get inaccessible, you can always use the most recent backup file and recover files you need in no time.
Our Experts are Ready to Recover Data from Your Failed QNAP SAS NAS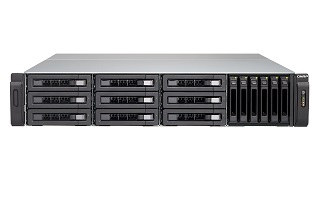 On the other hand, many nasty things may happen to a backup file itself. When the worst things happen to critical files, the most reliable way to get them back from failed QNAP SAS NAS is to contact the specialists having hands-on experience in data recovery.
ACE Data Recovery has more than 35 years of successful experience in field of data retrieval. Every year certified specialists hired from all over the globe recover terabytes of vital information from pretty wide range of data storage devices. QNAP SAS NAS recovery makes no problem for ACE Data Recovery as the company has really impressive range of solutions for successful data saving.
QNAP SAS NAS data recovery: ACE Data Recovery experts can retrieve intact files back
To achieve better results and retrieve files other companies can't, ACE Data Recovery relies on the proprietary tools and software pieces. In addition, company's engineers have all the necessary know-how to develop case-specific solutions if needed. At the same time, basic ACE Data Recovery's services are affordable to pretty wide range of potential customers including small, middle and large businesses, and individual PC/Mac users.
If you really want to get files back from faulty QNAP SAS NAS, don't spend time on doubts. Grab your phone and call ACE Data Recovery support line as soon as possible.