QNAP SMB Entry-level NAS series Recovery - RAID NAS Data Recovery
QNAP SMB Entry-level NAS recovery - RAID Data Data Recovery
QNAP Entry-level NAS recovery is one of several high-class services ACE Data Recovery offers to growing businesses having issues with vital information accessibility. Using the advantage of the cutting-edge technologies developed in-house, ACE Data Recovery experts can recover intact data from failed QNAP Entry-level network attached storages with maximum efficiency.
Network attached storages make a perfect solution for businesses seeking reliable solutions to grow and improve data processing/safety rates. In this regard, QNAP Entry-level NASs are the best for small businesses interested in cost-efficient but still reliable platforms to expand the storage capacity and ensure safe network administration.
QNAP SMB Entry-level NAS data recovery process: how it works for our clients
1.

YOU BRING

Bring or ship your failed storage media to our office for a free diagnostic evaluation.
2.

YOU APPROVE

Receive and approve an all-inclusive quote, so we can start the process immediately.
3.

WE RECOVER

Give us few days to recover your data and to copy it to a free return media.
4.

WE DELIVER

Get your data back, copy it to your computer and benefit from our free post-recovery support.
Free external hard drive or usb flash with each
completed
recovery
QNAP Entry-level network attached storages support SMB/CIFS, NFS, AFP protocols which allows to combine all available data storage devices within the corporate network and make file transfer fast and easy for users working in Windows, iOS, Linux/UNIX environment.
In spite of the fact that QNAP Entry-level NASs make an optimal choice for corporate networks, they aren't immune to logical and physical failures as far as they use the advantage of RAID technology. That means, a malfunctioned RAID controller, failed RAID reconfiguration, missing RAID partitions or careless staff actions may result in file inaccessibility or even corruption/overwriting.
Our Experts are Ready to Recover Data from Your Failed QNAP SMB Entry-level NAS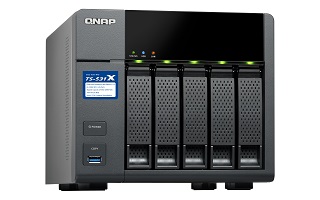 When files on QNAP Entry-level NAS get overwritten, there's nothing you can do. The only way is to recover files from the most recent backup file. Actually, regular data backup is the best solution to prevent permanent file loss. However, backup files themselves can get corrupted or lost.
When it comes to accidental data deletion or inaccessibility due to a physical/logical error, there is a chance to get intact files back safe and sound. All you need is give a call to ACE Data Recovery's support line and introduce the case. The rest is up to a team of certified experts in field of file recovery hired from all over the world.
QNAP SMB Entry-level NAS data recovery: ACE Data Recovery experts can retrieve intact files back
ACE Data Recovery offers the most advanced file recovery solutions to corporate and individual computer users for more than 35 years. Since 1981 the company has developed lots of proprietary tools and software pieces in order to make data recovery easy. In fact, ACE Data Recovery remains the only US company capable to develop case-specific tools for the best file retrieval.
As for the service price, ACE Data Recovery is guided by the following rule: "No data — No charge". Such an approach allows customers to pay only for the recovered data. In addition, the company is independent enough to deal without third-party assistance which makes the basic data recovery services affordable to really wide range of customers.