QNAP Enterprise NAS series Recovery - RAID NAS Data Recovery
QNAP Enterprise NAS recovery - RAID Data Data Recovery
If there's a need to retrieve sensitive information from failed QNAP Enterprise NAS, the best way to do that is to call on professional services provided by ACE Data Recovery, world's leader in field of data recovery. Certified specialists hired from all over the world have many means at their disposal to prevent vital files from loss and perform the most reliable and safe QNAP Enterprise series NAS recovery in the industry.
As the name suggests, QNAP Enterprise series NASs are designed to meet the essential needs of corporate users. Every year more and more companies and home-based businesses use the advantage of NAS and SAN drives in order to improve data processing and make it as safe as possible. Long gone are the days when network attached storages cost a fortune. Modern NAS drives can do without complex hardware which makes the affordable not only for large corporations but also for medium and small businesses.
QNAP Enterprise NAS data recovery process: how it works for our clients
1.

YOU BRING

Bring or ship your failed storage media to our office for a free diagnostic evaluation.
2.

YOU APPROVE

Receive and approve an all-inclusive quote, so we can start the process immediately.
3.

WE RECOVER

Give us few days to recover your data and to copy it to a free return media.
4.

WE DELIVER

Get your data back, copy it to your computer and benefit from our free post-recovery support.
Free external hard drive or usb flash with each
completed
recovery
To provide 24/7 access to all data storage devices in the network, QNAP Enterprise series NASs use the advantage of RAID technology. That means, network attached storages are vulnerable to logical and physical failures as they share the same pros and cons with RAID arrays. Because of a missing RAID partition, sudden power cut or malfunctioned RAID controller all sensitive information on a network attached storage may get inaccessible.
Our Experts are Ready to Recover Data from Your Failed QNAP Enterprise NAS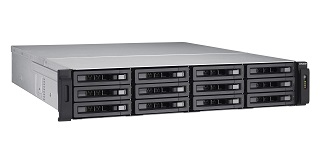 To avoid possible data-related problems it is highly recommended to backup files on a regular basis. That strategy allows to recover data from the most recent backup file in case of need. However, data backup is not one-box solution as the backup file itself may get corrupted or lost.
When nasty things happen to QNAP Enterprise series NASs and there's no chance to retrieve info from a backup file, it's about time to call ACE Data Recovery for help. With more than 35 years of successful hands-on experience in field of data recovery, the company can boast of the most advanced set of technical solutions for safe and comfy file retrieval.
QNAP Enterprise NAS data recovery: ACE Data Recovery experts can retrieve intact files back
Using the advantage of high technologies, ACE Data Recovery specs are capable to develop case-specific solution in order to improve chances of successful data recovery. If data isn't corrupted or overwritten, there is a chance to retrieve it back even if the drive is severely damaged.
In addition, ACE Data Recovery does without project outsourcing which, in tur, makes basic company services affordable for both corporate and individual users.