Synology SAT5200 960GB Enterprise SATA SSD
September, 2020
Synology SAT5200 960GB Enterprise SATA SSD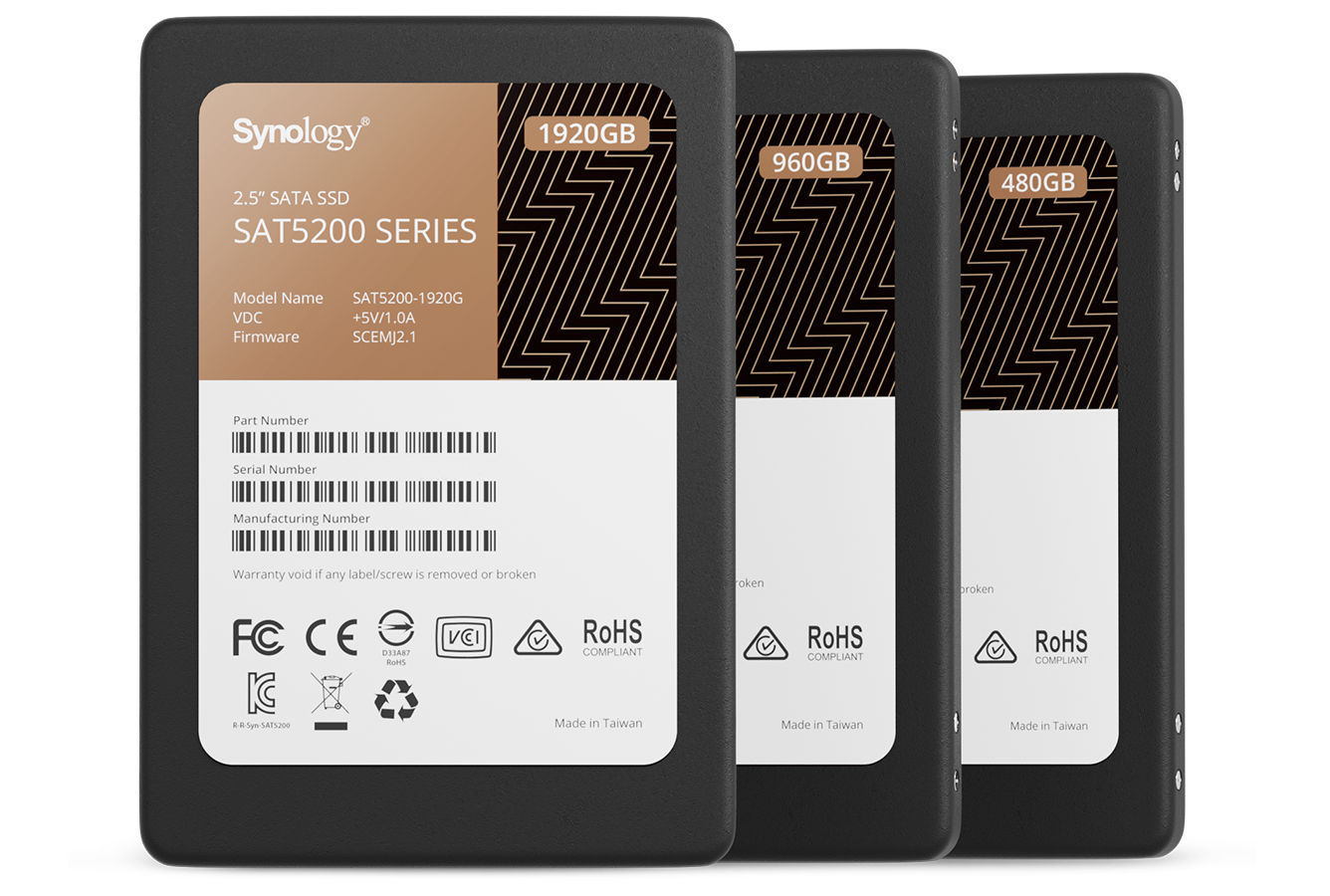 Synology has entered the SSD market with the SAT5200 Enterprise SSD, a drive designed for caching and storage in their own All-Flash Arrays and DiskStation NAS products. The new SAT5200 SATA SSD is good for mixed and intensive 24/7 workloads while boasting consistent I/O performance, low latency and minimal operational downtime.
The company teamed up with Phison to design a custom firmware for the proven S12DC SSD controller, and they came away with a rather solid build that includes power loss protection and end-to-end data protection. The new Synology SAT5200 960GB Enterprise SATA SSD is available in capacities that reach upwards of 1.92TB with 960GB and 480GB options as well. All SSD options come in 2.5″ 7mm form factor and feature SATA 6 Gb/s interface.
The SAT5200 960GB Synology Enterprise SATA SSD offers performance of 530 MB/s read and 500 MB/s write at 128K Q32. Random reads and writes are expected to reach up to 98,000 IOPS and 67,000 IOPS respectively. What stands out in this release is the promise of sustained low latency. The SAT5200 also features strong endurance and reliable specifications with 1,145TB for TBW, 1.3 DWDP and 1.5 million hours for MTBF.
The new Synology SSDs feature full integration with the company's comprehensive OS, Synology DiskStation Manager (DSM). Users will be able to display lifetime analytics for each installed SAT5200 unit based on actual workloads.
Built on proven components, with enterprise-class overprovisioning, power loss protection, and guaranteed integration and compatibility with Synology NAS products, the SAT5200 960GB SSD is a solid first effort at SSDs produced by Synology. These SSDs are worth considering if you use Synology NAS as in this way, users can avoid the potential finger-pointing of dealing with multiple vendors in a troubleshooting scenario.
Of course, like all storage media, the new Synology SAT5200 Enterprise SATA SSDs are vulnerable to physical and logical failure that may result in critical data inaccessibility. If that happens, the owners of Synology SAT5200 SSDs will need to contact a professional data recovery services provider like ACE Data Recovery. ACEs have extensive experience in recovering data from failed SSDs of all makes and models and will gladly help the Synology SAT5200 SSD owners get their irreplaceable data back.