ACE Data Recovery developed a solution for failed SSD drives based on Phison PS3110 - Press Release
ACE Data Recovery Announces Extended SSD Recovery Technology for Retrieving User Data from Phison-based Solid State Drives
DALLAS, TX- November 28, 2016 - ACE Data Recovery developed a solution for retrieving data from failed SSD drives based on Phison Electronics Corporation PS3110-S10 controllers. The solution will extend ACE's wide range of supported SSD recovery services from Phison PS3108-S8 and PS3109-S9 devices manufactured by PNY, Zotac, OCZ, Kingston, Corsair, Patriot, Silicon Power, Mushkin, ADATA, MyDigitalSSD, Crucial, Apacer, LiteOn, Sony, Zotac and Toshiba.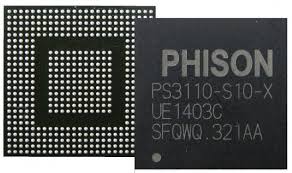 The PS3110-S10 has become a popular solution for consumer grade SSDs developed for high density TLC NAND flash memory. This controller allows the production of solid state storage devices for ultrabooks and tablets with a popular M.2 NGFF high performance form factor. However, high density TLC comes with the price of higher Raw Bit Error Rates (RBER) which can be compensated with the sophisticated SmartECCTM and GuaranteedFlushTM features of the PS3110-S10 while maintaining acceptable read/write performance.
All modern SSD controllers use a Flash Translation Layer (FTL) to map logical block addresses (LBAs) that are used for all storage devices to the physical flash cells and chips. The Phison S10 uses both static and dynamic FTLs to improve the performance of the background wear leveling process. When the FTL becomes corrupted or the SSD controller is unable to process the FTL in a timely matter, the data from the SSD becomes unavailable. ACE Data Recovery has developed a solution to extract customer data from Phison-based SSDs with the damaged FTL.
"With the help of our ZCopy Ultra hardware, we are able to read raw data from the flash memory chips of SSD drives," said Yevgeniy Tolkunov, CTO of ACE Data Recovery. "Our R&D department has created a custom solution to reconstruct the damaged FTL from Phison-based SSD drives and extract customer data. The challenge was the nature of SSDs. For hard drive recoveries sector remapping exists only for bad sectors. On the opposite, the FTL redirects each page individually and two sequential LBA blocks can be stored on any pages inside the SSD. So we have to rebuild the entire SSD to a general LBA format accessible by commonly used file systems."
About ACE Data Recovery:
ACE Data Recovery provides services to businesses and individuals who experience data loss from all media types including HDD, SSD and RAID arrays. The company has four labs and over 30 service centers in major metropolitan areas in USA and Canada. For additional information, visit www.datarecovery.net.