Synology FS/XS series Recovery - RAID NAS Data Recovery
Synology FS/XS series recovery - RAID Data Data Recovery
ACE Data Recovery, the world's leader in providing the first-class data recovery services, offers professional Synology FS/XS(+) series NAS recovery solutions to corporations and business owners in need of assistance with saving critical information from permanent loss.
These days more and more business owners rely on technologies that allow sharing and processing data fast and secure. In this regards, NAS and iSCSI SAN devices make an optimal choice for small, medium and large companies that use home or corporate networks.
Synology FS/XS series data recovery process: how it works for our clients
1.

YOU BRING

Bring or ship your failed storage media to our office for a free diagnostic evaluation.
2.

YOU APPROVE

Receive and approve an all-inclusive quote, so we can start the process immediately.
3.

WE RECOVER

Give us few days to recover your data and to copy it to a free return media.
4.

WE DELIVER

Get your data back, copy it to your computer and benefit from our free post-recovery support.
Free external hard drive or usb flash with each
completed
recovery
ACE Data Recovery is capable to recover multiply Synology RAID volumes, spread over not only simple single Synology Disk Group configuration, but also multi group with different member RAID levels per group. If data isn't physically overwritten or severely damaged, ACE Data Recovery experts can get archived data back from Synology Snapshot replicas.
Our Experts are Ready to Recover Data from Your Failed Synology FS/XS series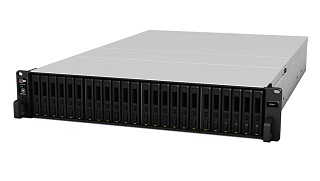 For people using NAS for home or small business networks it could be a problem to copy or backup important information from all connected data storage devices. As for large corporation, huge corporate networks administration may require capacious and very fast solutions. The solutions is to use the advantage of a single SAN that contains high-performance disk array. In addition, these days iSCSI SANs are affordable for middle and small businesses as SAN has two 10GbE Network Interface cards, and doesn't require complex cards and switches to run FC networks.
The good news is that Synology appliances can works as NAS or SAN, which makes them a wise purchase for businesses interested in safe and comfortable files processing.
Synology FS/XS series data recovery: ACE Data Recovery experts can retrieve intact files back
Synology can boast of it's own unique RAID configuration known as Synology Hybrid RAID (SHR). Briefly, it is an automated management system (MS) that makes storage volume deployment easy in comparison with traditional RAID MS. In addition SHR allows to effectively expand the file storage.
It should be taken into account that, depending on model and make, Synology NASs use the advantage of RAID arrays or storage pools. In opposite to a traditional RAID array that is nothing but a physical set of hard drives, storage pools may contain much more data storage devices than the RAID array. Moreover, a storage pools may use various drives to keep and process data which is hardly possible in a basic redundant disks array.
As Synology FS/XS(+) NAS devices use the advantage of RAID technology, they share the same failure types including multiple drive failure, controller failure, intermittent drive failure resulting in the whole array degradation, etc. Often, ACE Data Recovery gets Synology NAS devices that have logical failures caused by improper RAID reconfiguration or expansion.
Retrieving files from failed Synology FS/XS(+) series NAS requires highly-specific tools and a lot of qualified time. Fortunately, ACE Data Recovery, a company providing the expert recovery services for more than 35 years in a row, can assist with retrieving crucial data from a failed Synology media. A team of experienced engineers hired from all around the globe leaves no chance to logical and physical media failures.
In addition, ACE Data Recovery makes the company services affordable not only for large corporations, but also for medium and small business owners and provides No data - No charge guarantee to its customers.