Synology Plus series Recovery - RAID NAS Data Recovery
Synology Plus series recovery - RAID Data Data Recovery
Even the most advanced data storage devices may fail and threaten crucial data that affects business or personal life. With this in mind, ACE Data Recovery, the world's leader in data saving, offers professional Synology Plus series NAS data recovery services to small and medium businesses faced temporary data loss.
To make data processing safe and comfortable many business owners rely on the corporate networks. To administer those networks, small companies use the advantage of NAS as they grant 24/7 access to all data storage devices in the network. Nevertheless, when it comes to large companies having an urge to control pretty large networks in order to maintain both fast and safe data processing/ storage/ synchronization, using iSCSI SANs is more preferable. In addition to their high reliability, iSCSI SANs is affordable not only for large corporations, but also for medium and small businesses due to using Ethernet instead of FC networks.
Synology Plus series data recovery process: how it works for our clients
1.

YOU BRING

Bring or ship your failed storage media to our office for a free diagnostic evaluation.
2.

YOU APPROVE

Receive and approve an all-inclusive quote, so we can start the process immediately.
3.

WE RECOVER

Give us few days to recover your data and to copy it to a free return media.
4.

WE DELIVER

Get your data back, copy it to your computer and benefit from our free post-recovery support.
Free external hard drive or usb flash with each
completed
recovery
Depending on the requirements, Synology Plus series products can be used as NASs and SANs with the same efficiency. Using 1 Gb Network Interface (i.e. being more affordable), Synology Plus NASs make an optimal solution for both home-based and corporate networks administration.
Our Experts are Ready to Recover Data from Your Failed Synology Plus series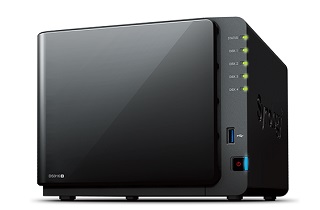 Synology Plus series NASs feature RAID technology in order to ensure proper files processing. Still, in opposite to traditional networks attached storages, Synology products rely on a unique automated management system known as Synology Hybrid RAID (SHR). That proprietary RAID configuration makes it easy to deploy volumes and extend the file storage.
For better storage space organizing, Synology NASs use tools known as volumes and disk groups. A basic storage space on Synology NAS (volume) is built on a data partition consisting of a several hard drives working together. This, in turn, allows to create various RAID types depending on the hard drives number and experiment with the storage space volume.
Depending on make, Synology NASs use the advantage of RAID arrays or more capacious storage pools. The first type of storages is perfect for small businesses. At the same time, storage pools that may contain various types of hard drives make a good choice for medium and large businesses.
Synology Plus series data recovery: ACE Data Recovery experts can retrieve intact files back
Nevertheless, Synology Plus series NASs have a weak spot: using the advantage of RAID technology, they share the same failure types. A multiple drive failure, array degradation, controller failure or careless human actions may result in temporary data loss.
ACE Data Recovery offers a full set of the cutting-edge tools and software pieces developed onsite for the A-grade Synology Plus series NAS recovery. If the data isn't severely corrupted or overwritten, a team of qualified experts hired from all around the world, is capable to recover data from Synology volumes and disk groups for a fair price.