Seagate Ultra Touch 5TB External HDD: A Technological Marvel with Sustainable Design
June, 2023
Seagate Ultra Touch 5TB External HDD: A Technological Marvel with Sustainable Design
Seagate's Ultra Touch 5TB External HDD is a cutting-edge storage solution that offers high capacity and convenient portability. Designed with the latest technologies and eco-friendly materials, this drive caters to tech-savvy users who prioritize both performance and sustainability.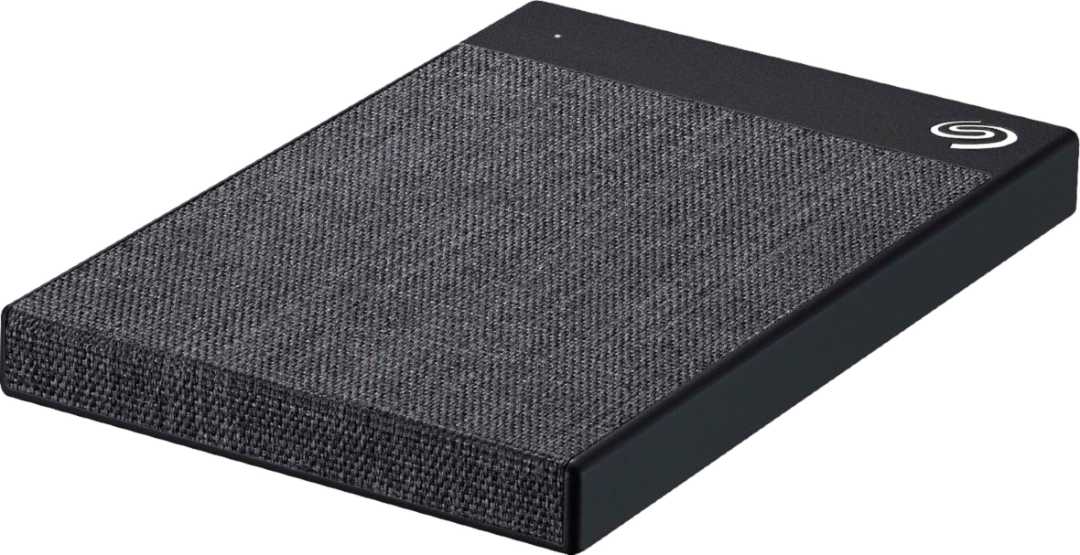 Seagate Ultra Touch Standout Features and Design
The Ultra Touch stands out in Seagate's lineup of portable hard drives, boasting a generous 5TB storage capacity. It joins the ranks of Seagate's other 5TB offerings but distinguishes itself with its unique features and design. It is important to note that the Ultra Touch should not be confused with the Backup Plus Ultra Touch, another offering from Seagate.
One of the standout aspects of the Ultra Touch is its eco-conscious construction. Seagate has incorporated at least 30% post-consumer recycled materials into the drive, making it an excellent choice for environmentally conscious consumers. The drive's sleek pebble gray finish not only adds to its aesthetic appeal but also reinforces its environmental cachet.
Advanced Connectivity and Compatibility
Noteworthy features of the Seagate Ultra Touch include an activity light and a USB Type-C port. This drive sets itself apart from many other external storage peripherals that have adopted the flat USB connector over the years. The inclusion of a USB Type-C port ensures compatibility with modern laptops and devices that have transitioned away from the traditional USB Type-A connector, offering users a seamless and future-proof experience.
Ultra Touch Eco-Friendly Enclosure and Compact Design
The Ultra Touch features an enclosure made of recycled plastic material, aligning with its eco-friendly ethos. Seagate's design inspiration for this drive comes from the natural world, resulting in soft tones and a smooth overall design. The drive's curved shape enhances both aesthetics and ergonomics, making it comfortable to hold and easy to carry. With dimensions of 4.54 × 3.15 × 0.91 inches (115 x 80 x 23mm) and weighing just 267g, the Seagate Ultra Touch is compact and lightweight, perfectly suited for users on the go. It comes bundled with a 50cm USB cable, providing the necessary connectivity right out of the box.
Seagate Ultra Touch Powerful Performance and Reliable Data Storage
At the heart of the Ultra Touch lies Seagate's renowned 5TB Barracuda internal HDD (model ST5000LM000). This high-capacity hard drive spins at 5400RPM and boasts a generous 128MB cache. It is important to note that the Ultra Touch is slightly thicker than average, measuring 15mm due to the additional platters it carries. This design choice enables the drive to deliver optimal performance and store a large amount of data efficiently. It is worth mentioning that the Ultra Touch comes with a two-year warranty, while other Seagate external hard drives typically include a three-year warranty.
Impressive Performance and Data Transfer Speeds
In terms of performance, the Ultra Touch lives up to expectations. Write speeds vary between 129 and 137MBps, while read speeds consistently average around 140MBps, depending on the software used for testing. Real-world file transfer tests involving a 10GB mix of files and folders demonstrate the Seagate Ultra Touch's efficiency, with an average transfer time of approximately 74 seconds, equivalent to a speed of around 137MBps. This places it slightly ahead of the 2019 Backup Plus model, which achieves an average speed of around 130MBps. However, it's important to note that the Ultra Touch falls significantly behind the average speeds of slower external SATA-based solid-state drives, offering only about a quarter of their performance. Additionally, the Ultra Touch remains cool to the touch during file transfers, ensuring reliable operation. The drive comes with a three-year warranty and includes an assortment of trial services to enhance the user experience.
Considering the Price and Conclusion
Considering the Ultra Touch's up to 40% higher price tag compared to Seagate's Portable HDD or Seagate Expansion drives, which offer similar features and form factors, potential buyers may find it challenging to justify the premium for this model within the Seagate product range. However, for those who prioritize a balance between performance, sustainability, and design aesthetics, the Ultra Touch remains a compelling option.
Seagate Ultra Touch Data Recovery services by ACE
Accidents happen with Ultra Touch, and data loss can occur due to various reasons such as accidental deletion, hardware failure, or system crashes. ACE Data Group recognizes the importance of data recovery and provides reliable solutions to help you retrieve your files and restore peace of mind. With the Ultra Touch, ACE offers a range of data recovery options to address different scenarios. These services are designed to handle both minor data loss incidents and more complex recovery situations. Whether you accidentally deleted a critical file or your entire drive is inaccessible, ACE's data recovery services aim to assist you in retrieving your data effectively.
ACE data recovery team possess the expertise and experience necessary to handle intricate data recovery tasks. These professionals employ advanced techniques and state-of-the-art tools to recover data from the Ultra Touch and other Seagate drive effectively. We provide detailed instructions and resources to help you initiate the data recovery process smoothly. You may need to submit a data recovery request, providing relevant information about your specific data loss situation.
Upon receiving your request, ACE's data recovery experts will analyze the problem and determine the appropriate course of action. They will work diligently to retrieve your lost data while adhering to strict security and privacy protocols to ensure the confidentiality of your files. It is important to note that data recovery services may be subject to certain terms and conditions. ACE offers various service plans, including options for extended coverage and additional benefits, depending on your needs and preferences. It is advisable to review the specific details of the data recovery services provided by ACE to fully understand the options available to you.