Dell SXKLTK series Enterprise class SAS SSD data recovery - Case Study
Financial Company from San Francisco Gets Their VMWARE Virtual Machines Recovered after Competitor's Unsuccessful Attempt
A financial company in San Francisco, CA had the misfortune of experiencing a critical firmware bug that disabled two Dell Enterprise Plus SAS SXKLTK 800 GB SSD in the Dell PowerEdge R620 Server RAID 5 array with 6 business critical VMWARE virtual disks. The client shipped the Dell server to DriveSavers immediately, based on past success with single disks. DriveSavers spent months trying to get readable SSD drive images to rebuild the RAID array, only to ship the PowerEdge back with a dreaded response: "Unfortunately after extensive time and effort we confirmed recovery was not possible in this case."
The client's IT staff searched the web for a reputable company specializing in SSD, RAID, VMWARE systems until something caught their eyes: "We recover data other companies can't." Convinced it was worth an attempt, they shipped the whole SSD array to Texas.
After close inspection ACE Data Recovery engineers found that two drives in the array had a critical firmware bug, which eventually caused data loss. The bug, seemingly related to an internal runtime counter in the SSDs, causes them to fail once they reach 40,000 hours runtime, losing all data in the process. The upstream supplier is SanDisk for SSD Pliant Lightning II controllers and firmware for SDLTMDKM series of Lightning Ascend™ Gen II SAS SSDs. Dell and Cisco used to ship those drives as SXKLTK series Enterprise class SAS SSD, all of which require the new D417 firmware update to avoid an untimely death at 40,000 hours.
Meanwhile, HPE used to ship 800 GB and 1.6 TB drives using the faulty firmware. These drives were used in numerous server and storage products, including HPE ProLiant, Synergy, Apollo 4200, Synergy Storage Modules, D3000 Storage Enclosure, and StoreEasy 1000 Storage, and require HPE's HPD7 firmware update to secure EK0800JVYPN, EO1600JVYPP, MK0800JVYPQ and MO1600JVYPR SSDs.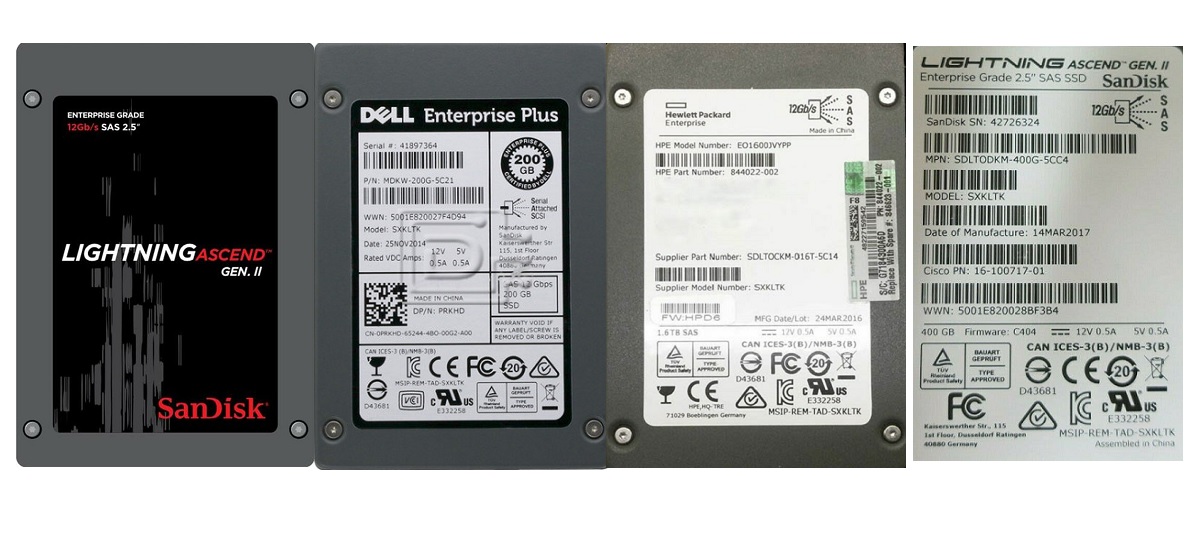 All modern SSD controllers use a Flash Translation Layer (FTL) to map logical block addresses (LBAs) that are used for all storage devices to physical flash cells and chips. When the FTL becomes inaccessible because of the SSD controller lock, data from an SSD becomes unavailable. ACE Data Recovery has developed a solution to extract customer data from the SSD with a locked SanDisk Pliant Lightning II controller. With the help of ZCopy Ultra hardware, engineers can read raw data from the flash memory chips of SSD drives.
The company's R&D department has created a custom solution to reconstruct the damaged FTL from SanDisk Lightning based SSD drives and extract customer data. "The challenge here is the nature of SSDs. For hard drive recoveries sector remapping exists only for bad sectors. On the opposite, the FTL redirects each page individually and two sequential LBA blocks can be stored on any pages inside the SSD. So, engineers have to rebuild the entire SSD to a general LBA format accessible by commonly used file systems," said Fedir Bandurin, ACE RAID recovery engineer.
After all images from a faulty SSD had been rebuilt, ACE Data Recovery successfully retrieved all VMDK files and sent them back to the customer. If you have ever found yourself in this situation, you already know how important it is to get this process right the first time or else risk losing data entirely.
ACE Data Recovery's team leverages over 30 years of experience and state-of-the-art facilities. Send in your device for a free evaluation. If you approve the results of the free evaluation, ACE Data Recovery specialists will work on your device just like in the above example. And, if no viable data is recovered, you will not be charged a service fee, thanks to ACE's "No Data – No Charge" policy. Contact ACE today and get your data back the right way!