WD SanDisk Lightning SAS SSD Recovery - Solid State Drive Data Recovery
SanDisk Lightning SAS SSD recovery - Solid State Drive Data Recovery
Professional SanDisk Lightning SAS SSD recovery is exactly what people need when it comes to saving sensitive information from Lightning Gen. II SAS solid-state drives. When vital files get locked inside the drive due to a physical or logical failure, the only reliable way to prevent them from permanent loss is to perform the A-grade data retrieval from Lightning SAS SSD storage with ACE Data Recovery team.
In comparison with the traditional SATA and SAS drives, SanDisk Lightning SAS SSDs can boast of really impressive bandwidth: 12Gb/s. That feature makes Lightning Gen. II SAS drives perfect for the computer owners having urge in fast data processing, media files editing and delivery.
SanDisk Lightning SAS SSD data recovery process: how it works for our clients
1.

YOU BRING

Bring or ship your failed storage media to our office for a free diagnostic evaluation.
2.

YOU APPROVE

Receive and approve an all-inclusive quote, so we can start the process immediately.
3.

WE RECOVER

Give us few days to recover your data and to copy it to a free return media.
4.

WE DELIVER

Get your data back, copy it to your computer and benefit from our free post-recovery support.
Free external hard drive or usb flash with each
completed
recovery
Being the fastest SAS drives on the modern market, Lightning Gen. II SSDs still remain physical file storages exposed to physical and logical failures. Physical deformation, overheating or manufacturing defects may turn the cutting-edge SAS solid-state drive into a complete wreck full of crucial user data.
Our Experts are Ready to Recover Data from Your Failed SanDisk Lightning SAS SSD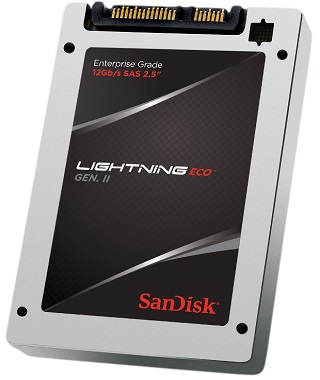 Usually, when a solid-state drive fails, it means it would be quite hard to recover vital information back. However, ACE Data Recovery company has both extensive hands-on experience and all the necessary hardware tools in order to improve chances of a favorable outcome while SanDisk Lightning SAS SSD recovery.
With more than 35 years of providing the high-grade file retrieval services, ACE Data Recovery team can ensure successful files recovery and restore 85% of intact files from a failed SSD unit. To deal with the NAND RAM memory chips, ACEs use the advantage of state-of-the-art proprietary.
Retrieving priceless information from SanDisk Lightning SAS SSDs is a really hard job That is why DIY actions are not applicable here. The most sure way to avoid permanent data loss and retrieve critical files safe and sound is to leave everything to specs making the core of ACE Data Recovery team.
Lightning Gen. II SAS drives recovery is safe when you do it with ACE Data Recovery
The following feedback was left by Brett D., a Lightning SAS SSD owner from Portland OR. The file storage device was sent to ACE Data Recovery company after a logical failure that made the unit inaccessible:
"
Guys in ACE Data Recovery are just awesome! If it weren't them, I couldn't access the project files and lose the job. From now on I'll keep their phone number around.
"