HPE ProLiant Rack Server recovery - Hard Drive, SSD and RAID Data Recovery
HPE ProLiant Rack Server Data Recovery - Hard Drive and SSD Smart Array RAID Data Recovery
For companies and datacenters using the advantage of HP storage devices ACE Data Recovery offers professional HP Rack Servers recovery services: a unique chance to get critical files from failed HPE ProLiant DL servers, HPE Apollo systems and HPE Integrity servers.
To retrieve sensitive information many corporate users would give an arm for, ACE Data Recovery staff relies on the proven technical solutions developed in-house. Combining extensive hands-on experience with the latest technologies, a team of certified specialists hired from all over the world can piece the tiniest parts of vital data together and recover intact files from Direct Attached Storage, NASs, SANs and iSCSI SAN storages safe and sound.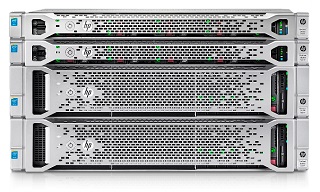 Potent and fail proof, HPE ProLiant DL servers, HPE Apollo systems and HPE Integrity servers make a good choice for companies and data centers seeking efficient ways to improve technological infrastructure and get hands-on experience in dealing with cloud-like file storages.
According to manufacturer, HP rack-optimized servers provide the best protection against infrastructure attacks that makes them perfect for companies processing and keeping tons of vital information.
Just like other servers, HP data storage/processing devices use the advantage of RAID technology. In most cases, RAID arrays are stable and provide secure access to critical files 24/7. However, the HDDs, as mechanical devices, are vulnerable to failures. So, failed Smart Array controller, multiple hard disk error or missing RAID partitions may result in temporary data loss with all its consequences.
HPE ProLiant Rack Server Data Recovery Process: how it works for our clients
1.

YOU BRING

Bring or ship your failed storage media to our office for a free diagnostic evaluation.
2.

YOU APPROVE

Receive and approve an all-inclusive quote, so we can start the process immediately.
3.

WE RECOVER

Give us few days to recover your data and to copy it to a free return media.
4.

WE DELIVER

Get your data back, copy it to your computer and benefit from our free post-recovery support.
Free external hard drive or usb flash with each
completed
recovery
Our Experts are Ready to Recover Data from Your Failed Smart Array RAID
When a network attached storage gets down, the only way to deal with it without losing precious data is to leave everything to professional file recovery experts. The sooner you do this, the better.
Don't try to retrieve data on your own. File recovery from the hard drive making a RAID array requires specific equipment and cleanroom environment. Otherwise, the dust in atmospheric air can damage the affected disk and severely corrupt your files.
Fortunately, if files aren't corrupted or overwritten, there is a real chance of successful file recovery. ACE Data Recovery assures there's a way to save the day and retrieve every single intact file back from local RAID arrays, failed NASs and SANs.
For more than 35 years in a row, ACE Data Recovery provides the A-grade data retrieval services to corporate and individual computer owners. Since 1981, the company has developed many unique tools and software pieces in order to recover information other companies can't.
When it comes to professional HP Rack Servers recovery, ACE Data Recovery can beat any company in the industry. ACE Data Recovery stands for providing high-class services for a fair price.