The 2023 WD Blue HDD with speed of 5640 RPM incorporating CMR technology at the 8TB capacity
June, 2023
The 2023 WD Blue HDD with speed of 5640 RPM incorporating CMR technology at the 8TB capacity
If you are looking for a reliable and affordable hard disk drive (HDD) for your desktop PC or NAS, you might want to consider the WD Blue HDD 8 TB .The 8TB Western Digital Blue is a basic entry-level HDD that provides sufficient performance for expanding storage capacity. It stands out from other inexpensive drives by incorporating CMR technology at the 8TB capacity, and the Blue series offers CMR options at various capacities. The 8TB model operates at a slightly higher speed of 5640 RPM, surpassing the typical 5400-RPM drives in its price range. This positions it as a superior choice over the Seagate BarraCuda alternative, which relies on slower SMR technology. However, it falls short in comparison to faster drives like the 7200-RPM FireCuda. Within its performance class, the WD Blue's price point makes it an appealing option against all competitors.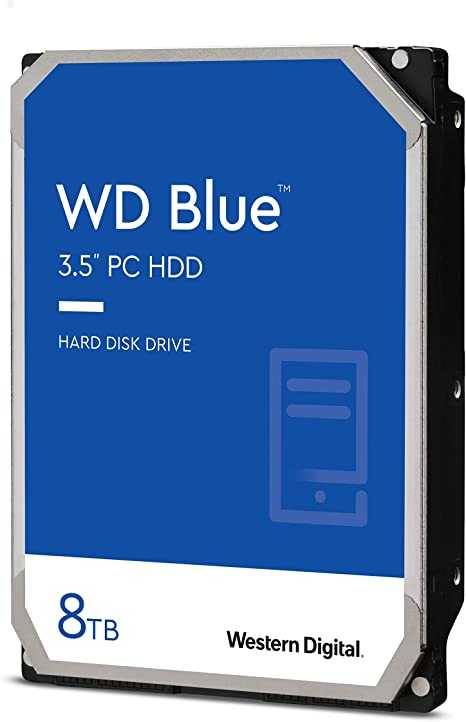 WD Blue HDD Features and Specifications
The WD Blue HDD is available in multiple capacities, but it is essential to review the datasheet before making a purchase. The 8TB model utilizes versatile CMR technology, features a 128MB cache, spins at 5640 RPM, and achieves an internal transfer rate of 185 MB/s. However, it is worth noting that not all Blue models incorporate CMR technology; some Blue drives are available in both CMR and slower SMR variants. Furthermore, smaller Blue models operate at either 5400 or 7200 RPM. The Blue HDD features a smaller cache for its capacity, even when compared to the BarraCuda. Consequently, this drive is designed to be a budget offering. It may not be the optimal choice for NAS usage or heavier workloads, but it perfectly suits the purpose of expanding storage in your system for media, backups, and general tasks that do not require SSD-class responsiveness or bandwidth.
Comparison with Competing Models
In contrast, the competing 8TB Seagate BarraCuda employs slower and less versatile SMR recording technology. It possesses a 256MB cache, spins at 5400 RPM, and delivers speeds of up to 190 MB/s. However, the BarraCuda exclusively utilizes SMR technology across all capacities, which is significantly less desirable. The 8TB WD Blue HDD competes with other 8TB hard drives, including the Seagate BarraCuda, the older HGST UltraStar He8, the Seagate IronWolf Pro 8TB, and the Seagate FireCuda. As expected within this drive class, the Blue's copy speed is relatively unimpressive. Therefore, when selecting a drive for purchase, this aspect should be taken into consideration. If faster file transfer performance is desired, a more expensive 7200-RPM model would be a more suitable choice. It is crucial to remember that this drive class is optimized for larger file sizes typically encountered in archival, backup, and bulk data storage applications. Most HDDs employ a write cache, which is a fast section of volatile memory like DRAM. Sustained write speeds directly impact the platters and tend to remain consistent. However, there are exceptions to these statements, as there are SSHDs (flash-containing hybrid HDDs), OptiNAND drives, and SMR drives that deviate from the traditional configuration.
But how does it compare with other HDD models in the market? Some of the key features and specifications of the WD Blue HDD 8 TB and see how it stacks up against its competitors.
Pros:
The WD Blue HDD 8 TB uses conventional magnetic recording (CMR) technology, ensuring consistent and predictable data writing, reducing the risk of corruption and performance degradation. In contrast, other HDD models using shingled magnetic recording (SMR) technology can experience slower write speeds and higher latency.
With a rotational speed of 5640 RPM, the WD Blue HDD 8 TB outperforms most HDDs in its category, enabling quicker data access and transfer. Benchmarks show higher read and write speeds compared to popular SMR-based models with 7200 RPM, such as the Seagate IronWolf Pro 8 TB HDD.
The WD Blue HDD 8 TB is compatible with SATA III interface and 3.5-inch form factor, making it suitable for most desktop PCs and NAS devices. Additionally, it comes with a 2-year limited warranty from WD, a trusted brand in the storage industry.
Cons:
The WD Blue HDD 8 TB consumes slightly more power than some HDD models with similar or higher storage capacity. Its average power consumption during read/write operations and idle mode is higher compared to alternatives like the Seagate IronWolf Pro 8 TB HDD and the Toshiba N300 NAS Internal Hard Drive 8 TB.
When it comes to noise generation, the WD Blue HDD 8 TB produces slightly more noise than some other HDD models with similar or higher storage capacity. Its average acoustics level during idle mode and seek operations is higher than the Seagate IronWolf Pro 8 TB HDD and the Toshiba N300 NAS Internal Hard Drive 8 TB.
The 7200-RPM Seagate FireCuda offers a better warranty. If greater capacity is required beyond what the Blue and FireCuda lines offer, other options such as NAS or enterprise drives, or the Toshiba X300 and X300 Pro series designed for high-end desktops and workstations, need to be considered. However, if the drive will only experience light usage, the WD Blue HDD 8 TB can provide cost savings.
The WD Blue HDD 8 TB is compatible with most desktop PCs and NAS devices supporting SATA III interface and 3.5-inch form factor. With its ample storage space, reliable performance, and trusted brand reputation, it is an excellent choice for those seeking high-quality and speedy storage without compromising on capacity.
Reliable and Affordable Data Recovery for WD Blue Hard Drives
If you have experienced data loss due to hard drive failure, accidental deletion, virus infection, or any other reason, finding a trustworthy and cost-effective data recovery service is crucial. ACE Data Recovery Services specializes in recovering data from WD hard drives and other WD products. With our expertise, advanced tools, and proven techniques, we can handle any data loss situation and restore your data promptly.
Whether you need to recover personal files, photos, videos, music, documents, or business data, we are here to assist you. We offer a free diagnosis and a no-data-no-fee guarantee, meaning you only pay if we successfully recover your data. Your privacy and data security are of utmost importance to us, and we ensure that your data is handled with the utmost care and confidentiality.
To initiate the hard drive data recovery process, simply fill out our online form or call us at 1-877-304-7189. We will provide you with a free quote and detailed instructions on how to ship your drive to our facility. Once we receive your drive, our experts will perform a comprehensive analysis to assess the recovery possibilities and inform you of the results.
If you approve the recovery, we will transfer your data to a new drive or another storage device of your choice and securely ship it back to you. ACE Data Recovery Services is your best option for recovering data from WD Blue hard drives. We boast a high success rate, competitive prices, fast turnaround time, and exceptional customer service.
Contact us today and let our experienced team help you retrieve your valuable data.