Enterprise Hard Drive & RAID Data Recovery
Enterprise Hard Drive Data Recovery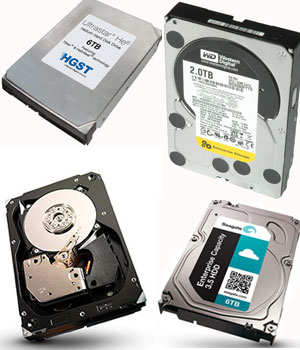 Enterprise class hard drives (FC, SAS, SCSI and Nearline SATA) are normally utilized in RAID based systems. So the recovery of data from those drives is just one of the many steps in the RAID recovery process. Because enterprise class hard drives are different in design from desktop class hard drives, they require different skill sets, technologies and even equipment to be employed in the data recovery process.
Enterprise class hard drives (sometimes called "RAID CLASS") are typically required to be in constant, round-the-clock operation. So, they must deliver the highest possible performance without sacrificing reliability, and they must also be able to function in demanding environments. Because of the nature of their use, maximizing capacity is not always the primary goal.
Enterprise Hard Drive Recovery - Many Different Issues Can Arise
Both desktop and laptop hard drives have internal error recovery algorithms that can take upwards of a minute to recover and re-map data that the drive cannot easily read. Many RAID controllers (depending on the controller) will drop a non-responsive drive in approximately 8 or so seconds. This can cause the array to drop a good drive because it has not had enough time to complete its internal error recovery procedure. When this happens, it can leave the rest of the array vulnerable.
Data Loss? Are you ready for your FREE evaluation?
To prevent this problem, many enterprise class hard drives will typically limit this error recovery time to approximately 7-8 seconds. After that period, if the drive has not recovered from the error it will issue an error message to the RAID card and defer the error recovery until a later time. This will let the RAID card decide on how to handle the recovery issue. The special tools designed for data recovery can essentially "force" those drives to continue the read attempt so that the data can be extracted. Enterprise hard disk recovery needs to be done by an experienced data recovery company. No matter the cause of data loss, accidental, mechanical, or environment related damages, our team of recovery engineers have the capability and skills to make things right.

Any Operating Platforms and Enterprise Hard Drive Vendors:
Operating Systems:
Microsoft Desktop OS
Microsoft Server OS
Microsoft Application Servers
Data Base Servers
Linux (All Distributions)
UNIX (All Flavors)
Hard Drive Makes:
Seagate
Hitachi
Fujitsu
Maxtor
Western Digital
and more...
If you're looking for the best company to recovery your data (enterprise hard disk recovery, enterprise data recovery services, enterprise harddisk recovery, or more), please give us a ring, we can help get your data back, quickly and securely.
ACE Data Group hard drive recovery process meets
manufacturer's requirements and will not void your original warranty