Lexar NM790 SSD: Delivering Mature NVMe Performance for Gamers and System Builders
June, 2023
Lexar NM790 SSD: Delivering Mature NVMe Performance for Gamers and System Builders
With Gen 5 drives dominating the high-performance market but being out of reach for many users due to their premium prices, the Gen 4 drive market is set to heat up. The new Lexar NM790 sets the stage for a shift in the NAND storage sector, as prices decline and even budget drives see performance improvements.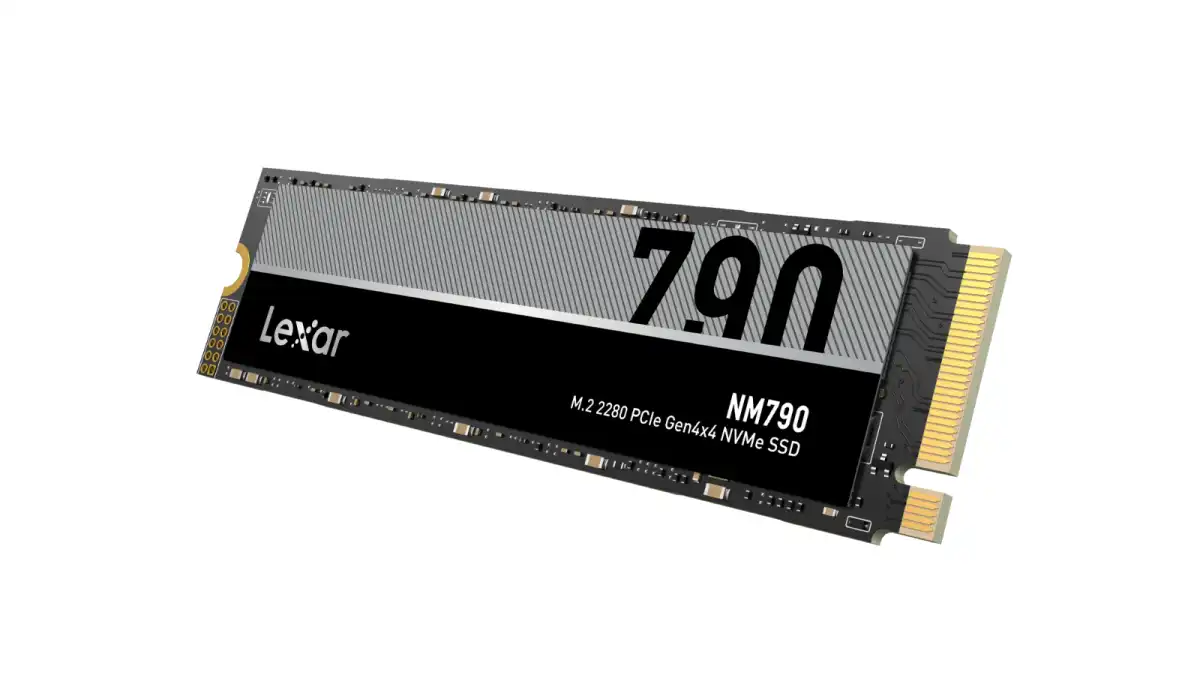 The Lexar NM790 demonstrates the significant advancements in Gen 4 NVMe drives
The Lexar NM790 follows a basic design of 2280 M.2 form factor with the NAND modules and controller positioned on the upper surface, covered only by a thin sticker. The absence of visible components on the underside suggests that Lexar aimed to create a simple and highly reliable design for the NM790. Without a heatsink, this drive easily fits into laptops, PCs, and even PlayStation 5 consoles. However, it is worth noting that using it in the console goes against Sony's advice to use SSDs with a heatsink. Nevertheless, the NM790 presents an opportunity to take that risk. As we will discuss later, this drive's power consumption is significantly lower than that of other Gen 4 NVMe drives, resulting in reduced heat generation.
Lexar currently offers the NM790 in three sizes: 512GB, 1TB, and 2TB. It is disappointing that a 4TB option is not available at present, but we hope that Lexar will introduce this capacity and possibly an 8TB model in the future.
Lexar NM790 Performance and Compatibility
To maximize the performance of the NM790, it requires an NVMe 2.0 M.2 (2280) slot that supports PCIe Gen 4 x4 operations. While it will work in a Gen 3 slot, the performance levels observed in our testing won't be fully realized.
Previously, it was advisable to match the drive interface with the appropriate generation. However, with drives like the Lexar NM790, it may be time to update that advice. A Gen 4 drive will perform well even in a Gen 3 slot, and it offers better potential for system upgrades, considering that the prices of Gen 3 drives are not substantially lower.
Advanced Features and Power Efficiency
One significant advantage of the NM790 is its support for HMB 3.0 and Dynamic SLC Caching, enabling it to achieve and sustain high levels of performance by utilizing the host system's RAM and dynamically converting NAND to cache memory.
For users with ample RAM and sufficient free space on the drive, it becomes possible to sustain write speeds for large files without exposing the underlying speed of the MLC NAND to the user. An added benefit for the drive manufacturer is that this approach avoids the need for expensive DRAM caching, which also consumes additional power.
While Lexar has not disclosed the specific controller used in this drive, certain indicators, such as power usage, suggest that it may not be based on the Phison E18 or a derivative of that design. Instead, it appears to be an in-house creation by Lexar.
Improved Power SSD Efficiency
Earlier Gen 4 drives offered impressive performance but often suffered from high power consumption and subsequent heat generation. The NM790 showcases the advancements in module design over the past few years by consuming nearly half the power of Lexar's previous NM800PRO design. With a 6W overhead, the NM790 requires only 3.5W of power.
Comparatively, other popular drives exhibit higher power consumption: the Samsung 990 Pro 2TB can demand up to 5.8W, the Kioxia Exceria Pro up to 8.9W, and the Kingston KC3000 2TB as much as 9.9W.
Lexar Encryption and Compatibility Considerations
It is important to note that the NM790 does not support hardware encryption. However, users can employ software-based encryption tools like BitLocker to encrypt the drive's contents. While hardware encryption is generally preferred for the highest level of security, this omission may not be a significant concern for most users who choose not to encrypt everything.
While the voltage requirements of these drives may not be a concern for desktop systems connected to the mains, laptop users may find the NM790 particularly appealing due to its efficiency. Nonetheless, there is one feature that Lexar chose to exclude, which may impact its suitability for certain use cases.
The NM790 Performance and Endurance
It is worth mentioning that quoted speeds for NVMe drives can vary slightly across different capacity options. The 512GB NM790 model is rated for sequential reads of 7200MB/s and sequential writes of up to 4400MB/s. In comparison, both the 1TB and 2TB models offer sequential read speeds of 7400MB/s and sequential write speeds of 6500MB/s.
The TBW (Terabytes Written) of these drives scales with capacity. The 512GB drive provides 500TB of endurance, the 1TB drive offers 1000TB, and the 2TB drive reaches 1500TB. Although it is unclear why the 2TB drive falls short of the expected 2000TB TBW, the provided endurance is still respectable.
For instance, using the 2TB drive as an example, the NM790 offers a better TBW than the Samsung 990 Pro, nearly double that of the Kioxia Exceria Pro, and only falls short by 100TB compared to the Kingston KC3000.
Performance-wise, it is best to consider this drive in the context of budget drives such as the Crucial P5 Plus and WD Black SN770, as they share a similar price range. However, the NM790 delivers performance that often rivals premium-branded products, especially in real-world tests. In terms of the Real World profile, the NM790 exhibits one of the best sequential read performances, with acceptable write performance. Its read speeds are at the higher end of the scale, and its write speed is only marginally lower than premium products. Benchmark tests favor the Samsung 990 Pro, but the NM790 outperforms the Seagate FireCuda 530.
All in all, the results are quite impressive, considering the affordability of this drive. Unless you require exceptionally high IOPs or PCIe Gen 5 support, the Lexar NM790 represents an excellent choice offering great value for money. It is significantly cheaper than the Samsung 990 Pro or Seagate FireCuda 530 while delivering comparable performance in a desktop system. Although the WD Black SN770 is cheaper, it lags behind with a read speed of only 5150 MB/s. The Crucial P5 Pro, which is priced similarly to the NM790, offers lower read and write speeds as well as a lower TBW.
The Lexar NM790 demonstrates the significant advancements in Gen 4 NVMe drives. It combines affordability, excellent all-around performance, exceptional power efficiency, and effective thermal control. The only drawbacks are the lack of hardware encryption support and the absence of a specific ecosystem compatibility. However, for the majority of users who do not require encryption for all their data, the NM790 proves to be an outstanding choice for high-speed storage. It performs admirably in both desktop systems and PlayStation 5 consoles.
Lexar SSD Data Recovery Services: Safeguarding Your Valuable Data
Accidents happen, and despite taking precautions, there may be instances where data loss occurs on your Lexar SSD. Whether it's due to accidental deletion, formatting errors, software malfunctions, or physical damage to the drive, the loss of critical data can be a distressing experience. In such situations, ACE data recovery services come to the rescue, offering professional expertise and specialized tools to retrieve your valuable data from SSD.
When choosing a Lexar SSD data recovery service, it is crucial to select a reputable provider with a proven track record of success. ACE Data Recovery employ skilled technicians who are well-versed in the intricacies of SSD technology and understand the specific challenges associated with Lexar SSDs. They utilize state-of-the-art data recovery tools and adhere to strict security protocols to ensure the confidentiality and integrity of your data throughout the recovery process.
ACE SSD data recovery services cater to a wide range of recovery needs, including:
Accidental File Deletion:

If you have unintentionally deleted important files or folders from your Lexar SSD, the data recovery experts can employ specialized techniques to recover those files.

Formatting Errors:

In cases where a Lexar SSD has been accidentally formatted, data recovery specialists can utilize advanced methods to retrieve the formatted data, minimizing the risk of permanent loss.

Logical Errors and Software Issues:

If your Lexar SSD experiences logical errors or software malfunctions that prevent access to your data, skilled technicians can diagnose and resolve these issues, recovering your valuable files.

Physical Damage:

In situations where the Lexar SSD has suffered physical damage due to impact, water exposure, or other factors, professional data recovery services can employ specialized tools and techniques to recover data from the damaged drive.

Firmware Corruption:

If the firmware on your Lexar SSD becomes corrupt, rendering the drive inaccessible, ACE Data Recovery experts can employ specialized firmware repair techniques to restore functionality and recover your data.
It's important to note that data recovery from an SSD can be a complex and delicate process. Therefore, it is strongly advised against attempting DIY recovery methods, as these can potentially exacerbate the issue and lead to further data loss. Instead, entrusting your Lexar SSD to a reputable data recovery service, such as ACE Data Group, ensures that experienced professionals with the necessary expertise and resources handle your case.
In conclusion, ACE SSD data recovery services offer a reliable and professional solution for retrieving lost or inaccessible data from your Lexar SSD. By partnering with us, you can have peace of mind knowing that your valuable data is in capable hands, and every effort will be made to recover your files successfully. Remember to choose a reputable data recovery service provider with a proven track record to ensure the best possible outcome for your data recovery needs.