Western Digital Reveals Red SN700 NVMe NAS SSD
November, 2021
Western Digital Reveals Red SN700 NVMe NAS SSD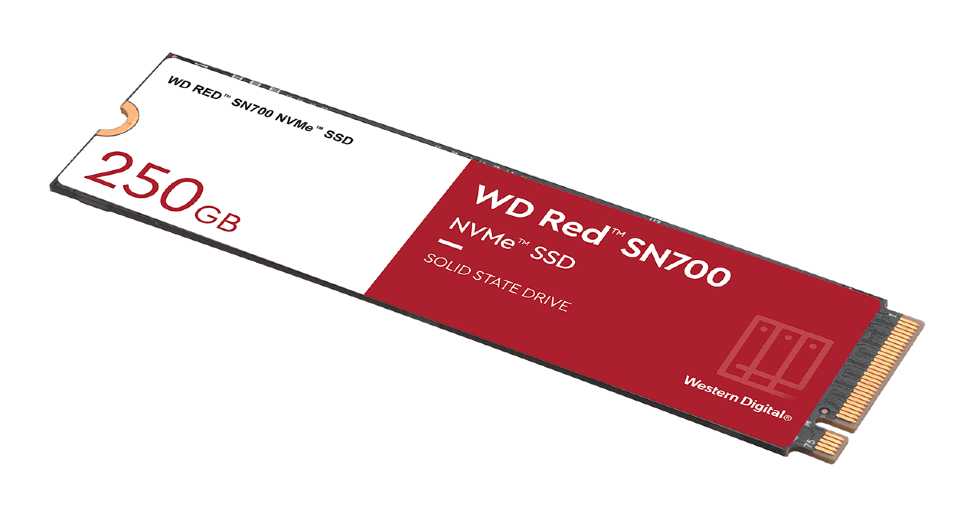 The Western Digital SN700 Red SSD is intended particularly for use with network-attached storage (NAS) systems, and it places a strong emphasis on consistent performance and long-term reliability and endurance. Red SN700 M.2 NVMe solutions now include SSDs ranging in capacity from 250GB to 4TB. WD's SN700 drives are designed to work with premium NAS boxes that employ NVMe M.2 SSDs for caching purposes.
What distinguishes these WD RED NAS-specific drives from regular WD Black or WD Blue hard drives is that the 2,000 TBW rating on this PCIe 3.0 x4 1TB device is significantly higher than the 600 TBW rating on the SN750 model with the same capacity. As such the SSD is rated at more than one full drive write per day (DWPD) throughout the course of the SSD's warranty period of five years. And that is an exemplary basis of endurance.
Perhaps one way of looking at this product is as an improved version of the Black SN750 series with significantly greater endurance. WD employs technology that's quite similar to that found on the SN750, even though the controller, which is labeled SanDisk 20-82-000705-A2, is a slight derivation of the SN750 model. The controller has been updated numerous times with tweaks and improvements over the years, resulting in a pretty impressive controller to largely saturate the potential 4,000MB/s of PCIe Gen 3×4, peaking at 3,430MB/s sequential read and 3,100 sequential write.
The WD Red SN700 is also highlighted by its fast system responsiveness and I/O performance that is good for multi-user, multi-application use cases. Western Digital also claims that Red SN700 NVMe NAS SSD will be able to support the toughest SMBs projects from virtualization to collaborative editing to intensive database storage with efficient caching – all while helping business lower the TCO.
But no matter how good they are, Western Digital SN700 Red SSDs are also vulnerable to logical and physical failures that can make critical business data inaccessible and lead to downtime for businesses. Then the owners of Western Digital SN700 Red SSDs will need to contact a professional data recovery services provider to get their irreplaceable data back. ACE Data Recovery team has extensive experience in recovering data from all types of storage media and will gladly help the Western Digital SN700 Red SSD owners with their SSD data recovery needs.