Western Digital NAS Red Recovery - Hard Drive Data Recovery
Western Digital NAS Red Recovery - Hard Drive Data Recovery
The WD Red hard disk is probably one of the best choice for NAS appliances you can get for this price. This 3.5-inch NAS oriented hard drive enables users to use up additional space which is probably enough to transfer all valuable information you have as small business or individual. With the WD Red hard disk you will never have to worry about running out of storage. The only thing you should be worried about is not being able to protect the data from system errors and losing your data.
In case the data gets compromised, the best thing to do is to seek professional data recovery help. If you try to recover the data on your own, you risk losing it forever. ACE Data Recovery is always willing to help you restore what has been lost. We have been offering recovery services for more than three decades and we know our way around devices such as WD Red.
It usually takes 24 to 48 hours to diagnose the problem and call you with a report and the cost of your project. If the cost is within your budget, we would take additional 2 to 5 business days, depending on the issue, to restore the data. To show you how confident we are in the work we do, we have implemented a policy called No data – No charge. This means that if we don't deliver what we have promised, you won't have to pay us. With this policy customers can be sure that we don't waste their time and do our best to help.
WD NAS Red data recovery process: how it works for our clients
1.

YOU BRING

Bring or ship your failed storage media to our office for a free diagnostic evaluation.
2.

YOU APPROVE

Receive and approve an all-inclusive quote, so we can start the process immediately.
3.

WE RECOVER

Give us few days to recover your data and to copy it to a free return media.
4.

WE DELIVER

Get your data back, copy it to your computer and benefit from our free post-recovery support.
Free external hard drive or usb flash with each
completed
recovery
Our Experts are Ready to Recover Data from Your Failed Western Digital NAS Red Drive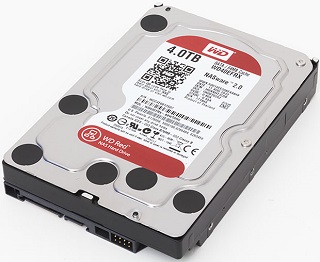 "I use WD Red for Buffalo Technologies NAS as it has a lot of storage so I can save many files in one place. However, due to a system error the data got lost. I took the disk to ACE Data Recovery and they were able to restore the information. I highly recommend their services," said George, a client of ACE Data Recovery.

The recovery process will be carried out in one of our laboratories located all over the country. There we have the latest equipment, required for data recovery and we have full control over the conditions under which every process is carried out. In addition, we make sure the data remains confidential and under no circumstances leaves the lab.

Let Us Get Back Data from Your NAS Red Drive
If you own a Western Digital Red NAS drive, you may have experienced some issues with data loss or corruption. NAS drives are designed to store large amounts of data and provide access to multiple users over a network. However, they are not immune to failures and accidents. Whether it's due to physical damage, logical errors, firmware bugs, or human errors, losing your data can be devastating and stressful.
That's why you need a reliable and professional data recovery service that can handle any type of NAS drive failure and restore your data as quickly and safely as possible. ACE Data Group is one of the leading data recovery companies in the industry, with over 3 decades of experience and a success rate of over 98%. We have the expertise, tools, and facilities to recover data from any Western Digital Red NAS drive model, regardless of the cause or extent of the damage.
ACE Data Recovery has the following advantages over other data recovery services companies:
ACE has a team of experienced and certified technicians who use state-of-the-art equipment and techniques to ensure the highest quality and success rate of data recovery. They also follow strict security and privacy protocols to protect your data from unauthorized access or disclosure.
ACE is an authorized partner of Western Digital, which means that they developed technology to access to the original firmware and tools that are needed to repair and recover data from Western Digital Red NAS drives.
ACE has a dedicated customer support service that is responsive and helpful. They will keep you updated on the progress of your data recovery and answer any questions or concerns that you may have along the way.
We use advanced techniques and proprietary software to recover data from NAS drives that other companies may deem unrecoverable. We can handle any RAID configuration, file system, operating system, or encryption level. We can also recover data from NAS drives that have been formatted, overwritten, infected by malware, or suffered from power surges or fire damage.
We understand how important your data is to you and your business, and we treat every case with the utmost care and confidentiality. We offer a free evaluation and a No-data-No-fee guarantee for all our NAS drive recovery services. We also provide 24/7 emergency service for urgent cases that require immediate attention.
If you need data recovery services for your Western Digital Red NAS drive, don't hesitate to contact us today. We will provide you with a free quote and a fast turnaround time. We will also keep you updated on the progress of your case and deliver your recovered data on a secure storage device of your choice.ACE Data Group is your best choice for Western Digital Red NAS drive data recovery. Trust us with your data and we will not let you down.