WD SanDisk SSD Drives Recovery - Flash Drives Data Recovery
SanDisk SSD Drives recovery - Flash Drive Data Data Recovery
SanDisk SSD Drives data recovery is one of A-grade technical services that ACE Data Recovery team, world's #1 data recovery service provider, offers to corporate and individual computer users who choose innovative solutions to improve their virtual experience. Professional data recovery from SanDisk SSD Drives requires cutting-edge technologies and highly specific solutions to prevent vital files from complete loss.
SanDisk SSD Drives make a perfect choice for serious gamers, media pros, and power home users who are looking for state-of-the-art solutions that deliver pro-level consistent performance when multitasking and could be perfect for both working and gaming. SanDisk SSD Drives deliver the best performance necessary for graphics-intensive apps and are characterized by high endurance.
SanDisk SSD Drives data recovery process: how it works for our clients
1.

YOU BRING

Bring or ship your failed storage media to our office for a free diagnostic evaluation.
2.

YOU APPROVE

Receive and approve an all-inclusive quote, so we can start the process immediately.
3.

WE RECOVER

Give us few days to recover your data and to copy it to a free return media.
4.

WE DELIVER

Get your data back, copy it to your computer and benefit from our free post-recovery support.
Free external hard drive or usb flash with each
completed
recovery
Nevertheless, no matter how good SanDisk SSD Drives are, extensive use and careless user actions may cause serious logical/physical failures. When these nasty things happen, critical files stored on SanDisk SSD Drives may get inaccessible, corrupted or lost. The best way to get sensitive information back from a failed SanDisk SSD Drive into one piece is to contact a professional data retrieval services provider.
Our Experts are Ready to Recover Data from Your Failed SanDisk SSD Drives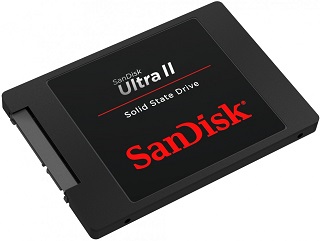 ACE Data Recovery has all the necessary software and hardware tools and advanced strategies for successful safe file recovery from any type of data storage device. ACEs have been providing premium services in the field of data recovery for over 35 years and have developed the most efficient retrieval strategies in the industry. The company's experienced engineers can even develop custom solutions for unusual cases and every operation with data storage devices is done in the company's proprietary labs.
You should keep in mind that in case of SanDisk SSD Drive failure, data recovery is a very complicated process that could be done only by certified professionals. Do not hesitate to contact ACE Data Recovery support team for a free consultation and hire the experts in data recovery who can retrieve any type of files from SanDisk SSD Drives.
Data recovery from SanDisk SSD Drives: ACE Data Recovery customers are satisfied with the results
ACEs have lots of great reviews about their services from their satisfied customers. Some of them were left by the owners of SanDisk SSD Drives who contacted the company for the high-grade data retrieval services and had a pleasant customer experience. Here is a message left by Tom S., a SanDisk SSD Drive owner from Houston, TX:
"
I encountered a problem with my SanDisk SSD Drive and I believed that I possibly lost my invaluable documentation and images I had prepared for PR presentation that was so important for my career. ACE Data Recovery managed to retrieve my data urgently. It's an outstanding service
."