Synology DVA3221 Deep Learning NVR
August, 2021
Synology DVA3221 Deep Learning NVR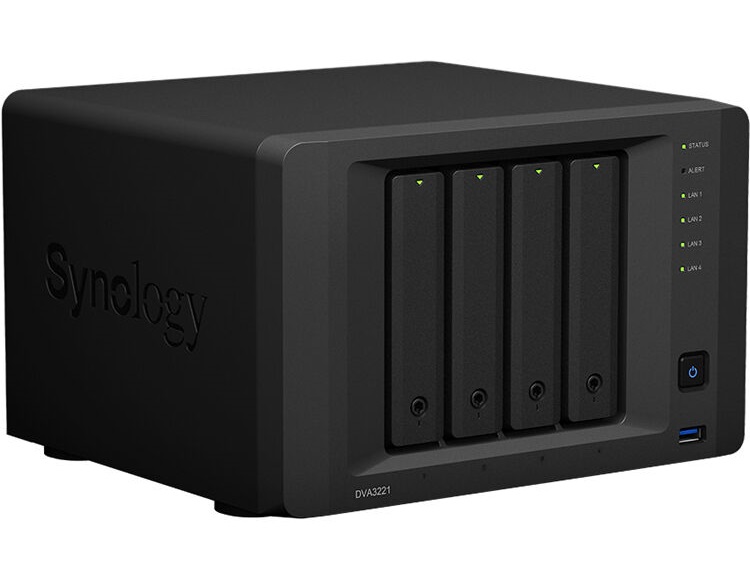 The Synology DVA3221 may look like a regular four-bay desktop NAS, but it's designed and configured as a one-stop surveillance hub, so you can simply plug in your IP cameras and go. It is an on-premise 4-bay desktop NVR solution that integrates Synology's deep learning-based algorithms to provide a fast and smart video surveillance solution.
Its key feature is a preinstalled Nvidia GeForce GTX 1650 graphics card that makes possible performing deep video analytics tasks and allows you to track people, employ live facial recognition, and do plenty more across multiple video feeds.
The Synology DVA3221 NAS has built-in support for push notifications keeping users informed of possible intrusions, whilst the automated video surveillance system helps safeguard properties by detecting people, vehicles and anonymous objects in designated zones.
The DVA3221 is also very easy to deploy. You just have to slot in four 14TB WD Red Pro NAS hard disks and fire up Synology's web discovery portal. The portal located the appliance will install the latest DSM 6.2 software, set up a suitable RAID array, load the Nvidia drivers, set up Synology's own Surveillance Station app and create a shared video storage folder. Connecting your IP cameras is managed by the Surveillance Station software, which works with over 7,900 models. The price includes an eight-camera license, but the appliance can work with up to 32 feeds.
Since the footage that users capture will almost inevitably contain personally identifiable information, the DVA3221 also includes some smart features to help them ensure GDPR compliance. The whole system can be isolated on a private network; video storage shares can be encrypted, and access can be locked down with two-factor authentication, while Synology's Evidence Integrity Authenticator app can digitally sign recordings to help prove that footage hasn't been tampered with.
The DVA3221 NVR NAS is a good solution if you need to capture, store, and manage large archives of security camera footage. But it is also vulnerable to failures that can make your data inaccessible. Then you'll need to contact a professional data recovery services provider. ACE Data Recovery team can successfully recover data from all types of storage media, including Synology NAS of all makes and models and is ready to help the Synology DVA3221 NVR NAS owners with their data recovery needs.