The new IronWolf Pro 22TB hard disk drive (HDD) has been introduced by Seagate
April, 2023
The new IronWolf Pro 22TB hard disk drive (HDD) has been introduced by Seagate
The new IronWolf Pro 22TB conventional magnetic recording (CMR)-based hard disk drive (HDD) has been introduced by Seagate. This drive is the company's highest capacity CMR HDD and offers market-leading capacity, dependability, and powerful performance for multi-user NAS workloads and enterprise RAID solutions.
Despite SSDs getting faster and larger, hard drives are still the most affordable option for storing large amounts of data. Seagate's IronWolf Pro drives are popular options for network-attached-storage (NAS) and direct-attached-storage (DAS) devices. With the IronWolf Pro 22TB HDD, the manufacturer has expanded its lineup to offer consumers even more storage for their precious data. The new Seagate IronWolf Pro 22TB HDD is optimized with Seagate's AgileArray™ technology, providing exceptional network-attached-storage (NAS), direct-attached-storage (DAS) performance and RAID recovery and reliability in multi-bay, multi-user environments. The drive offers user workload rates of 550TB/year, enabling commercial and enterprise NAS users to seamlessly store, share, and collaborate on large amounts of data over a network. It also offers an SDR of up to 285MB/s, allowing users to seamlessly share files, back up, and tackle heavy workloads in multi-user NAS environments. The HDD consistently delivers high performance and reliability in multi-bay systems with built-in rotational vibration (RV) sensors to provide RV mitigation.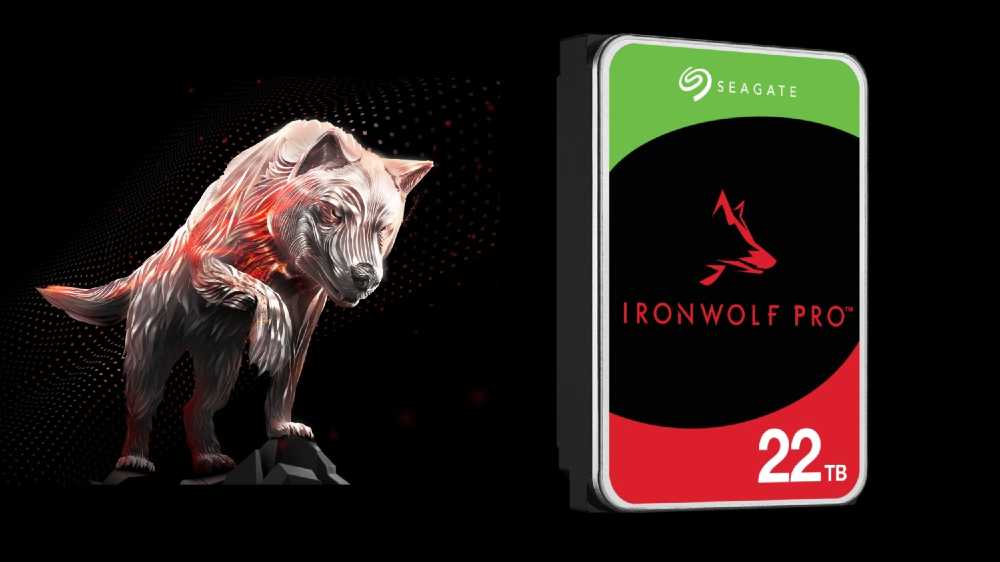 The IronWolf Pro 22TB (ST22000NT001) arrives in a conventional 3.5-inch form factor with a SATA III connector to communicate with the host system. The helium-filled hard drive comprises ten platters and 20 accompanying heads. IronWolf Pro 22TB features a spindle speed of 7,200 RPM, wields a 512MB cache and delivers maximum sustained transfer rates of up to 285 MB/s. In addition, the drive flaunts user workload rates of up to 550TB per year. The IronWolf Pro 22TB is 7.5% faster and has an 83.3% higher WRL than the WD Red Pro 22TB. The drive also sports rotational vibration (RV) sensors to mitigate vibration. The noise level of the drive jumps to around 26 dbA during active seek operations, making it quieter than the WD Red Pro 22TB. However, the IronWolf Pro 22TB gets audible under heavy workloads as the noise level oscillates between 30 dBA and 34 dBA.
The Seagate IronWolf Pro 22TB's idle and active power consumption is 6W and 7.9W, respectively. It consumes almost twice as much power at idle than the WD Red Pro 22TB, and the IronWolf Pro 22TB's active power draw is 16.2% higher too. Seagate is a bit late to the 22TB party, as Western Digital's 22TB drives from the company's Purple Pro (surveillance), Gold (enterprise), and Red Pro (NAS) portfolio have been on the retail market since last year. The drive delivers a five-year limited warranty and up to 2.5M-hr MTBF for hassle-free data storage and best-in-class TCO. The Seagate IronWolf Pro 22TB HDD is also equipped with Seagate's IronWolf Health Management system, giving users peace of mind knowing their data is secure.
In the event of data loss, ACE offers data recovery services for the IronWolf Pro 22TB HDD. Our data recovery services are available 24/7 and are designed to recover lost data from any brand of hard drive. With over 30 years of experience, ACE data recovery experts use state-of-the-art techniques to recover data from damaged, corrupted, or inaccessible HDD. WE offers various data recovery service options, including standard, expedited and emergency in-lab services. ACE data recovery in-lab services offer the highest success rates and a fast turnaround time.