Seagate Exos X20 and IronWolf Pro 20TB HDDs
May, 2022
Seagate Exos X20 and IronWolf Pro 20TB HDDs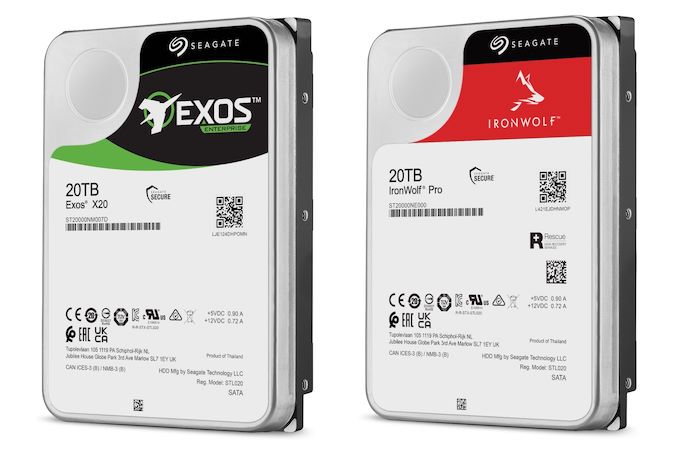 The Seagate Exos X20 and IronWolf Pro 20TB HDDs are conventional, high-capacity mechanical drives for NAS and enterprise. The HDDs have 20TB of capacity and employ nine platters that spin at 7,200 RPM, making them well-suited for comparatively-speedy storage of bulk data. The IronWolf hard drive targets NAS and workstation users, while the Exos-branded HDD is designed for enterprise use, meaning these are good drives designed for multi-drive environments.
Achieving this sort of capacity often requires novel recording technologies, like energy-assisted magnetic recording (EAMR) through either heat-assisted magnetic recording (HAMR) or microwave-assisted magnetic recording (MAMR). But Seagate was able to go with the conventional perpendicular magnetic recording (CMR/PMR) technique with Exos X20 and IronWolf Pro 20TB HDD drives, so it doesn't employ the more exotic recording technologies.
Both drives have environmental sensors for purposes like measuring rotational vibration (RV), but the Seagate Exos X20 HDD focuses on efficiency with the trademarked PowerChoice and PowerBalance features while the IronWolf Pro HDD is optimized for NAS with AgileArray.
Both hard drives operate at 7200 RPM with a maximum sustained transfer rate of 285 MBps and come packing 256MB of cache. While both HDDs come with SATA connectivity, the Exos X20 is also available with the 12 Gbps SAS interface. The Exos X20 HDD has a higher mean time before failure (MTBF) rating of 2.5 million hours compared to IronWolf's 1.2 million, and a workload rating of 550TB per year versus 300TB per year for the IronWolf Pro HDD. Both hard drives come with a 5-year warranty.
The Seagate IronWolf Pro HDD is a solid choice for NAS and workstations and the Segate Exos X20 HDD slots in with higher workload and reliability ratings for servers and surveillance systems. But these HDDs can also fall victim to logical and physical failures, resulting in critical data inaccessibility, which means downtime for businesses. Then the owners of the Seagate Exos X20 and IronWolf Pro 20TB HDDs will need to contact a professional data recovery services provider to get their irreplaceable data back.
ACE Data Recovery team has extensive experience in recovering data from HDDs of all makes and models and can boast of one of the highest success rates in the industry. ACE Data Recovery engineers will gladly help the Seagate Exos X20 and IronWolf Pro 20TB HDDs owners with their data recovery needs.