Exos X24 - Seagate Unveils Latest Breakthrough in Data Storage Technology
October, 2023
Exos X24 - Seagate Unveils Latest Breakthrough in Data Storage Technology
Seagate, a world-leading data storage solutions provider, has recently set a new milestone in the industry with its cutting-edge conventional magnetic recording (CMR) hard disk drives (HDDs) offering an unprecedented storage capacity of up to 28TB. This groundbreaking announcement marks the company's highest capacity series of drives to date, solidifying its commitment to delivering advanced, reliable, and scalable storage solutions for data center applications.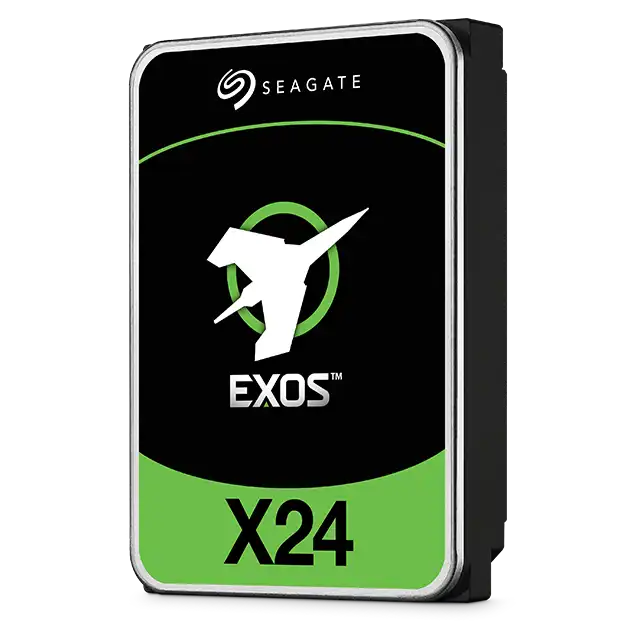 Seagate Exos X24 Series: Pushing the Boundaries
Seagate has raised the bar in the field of data center applications by unveiling the Exos X24 HDDs, featuring a remarkable 24TB storage capacity. These high-density drives are equipped with 10 disks, each boasting an impressive 2.4TB of storage capacity. But that's not all; Seagate has also revealed plans to offer shingled magnetic recording (SMR) Exos X24 configurations, taking storage capacities to an astonishing 28TB.
The Exos X24 drives are housed in a 3.5-inch helium-filled enclosure, spinning at 7,200 RPM, and they are available in both SATA and SAS interfaces. The enhanced caching scheme featured in these drives offers an astounding threefold performance improvement compared to solutions with on-read or write caching.
Advanced Technology at Your Service
Seagate's Exos X24 HDD family doesn't stop at 24TB; it includes a range of models, from 12TB to 24TB, all built on a foundation of up to 10 platters, each holding 2.4TB. These platters utilize perpendicular magnetic recording (PMR) technology, accompanied by heads that employ two-dimensional magnetic recording (TDMR) technology, reducing adjacent track interference and ensuring reliable reading even at high track pitch densities.
These drives operate at a spindle speed of 7200 RPM and incorporate a segmented 256MB cache. The 2.4TB platters feature an impressive areal density of 1260 Gbit/inch², enabling a peak sustained transfer rate of 285 MB/s, a testament to their performance capabilities. Furthermore, the entire Exos X24 range offers up to 168/550 random read/write IOPS (4K, QD16), showcasing its capacity to handle demanding workloads.
In terms of security, Seagate's Exos X24 hard drives come equipped with Seagate's Secure encryption technology, offering options for a self-encrypting drive (SED), SED-FIPS, and instant secure-erase (ISE). These drives come backed by a reassuring 5-year limited warranty.
Seagate Revolutionizing Data Protection
Seagate introduces a novel form of data protection named ADAPT (Autonomic Distributed Allocation Protection Technology). ADAPT employs an erasure code to dramatically reduce the time required to rebuild massive hard disk drives, making it especially vital as HDD capacities continue to surge. Unlike traditional methods that could take up to a week to rebuild a failed drive, ADAPT enables a rebuild in a mere one hour, saving invaluable time and resources.
Seagate's Advanced Distributed Autonomic Protection Technology (ADAPT) is driven by an intelligent parallel architecture that utilizes smart learning to address potential or active failures. ADAPT offers unprecedented flexibility in physical storage, moving away from the constraints of minimum space allocation that characterizes traditional RAID recovery setups. This remarkable flexibility leads to rapid rebuild times and simplified expansion, rendering Seagate systems truly self-healing, measuring failures in minutes, not days.
Industry Benchmarking and Power Efficiency
In a competitive landscape, Seagate stands tall with its Exos X24 HDDs. Western Digital introduced 10-disk CMR HDDs with 22TB and SMR HDDs with 26TB in May 2022. However, in August of the same year, Seagate presented a 28TB UltraSMR HDD, indicating its continued dominance in this field. Extrapolating from the areal density of the 22TB drive, the 28TB drive should reach an impressive 1.4Tbpsi.
When it comes to power consumption, Seagate has addressed that aspect as well. The Seagate Exos X24 series features power consumption ranging from 6.3W (idle) to 8.9W (max) for SATA versions and from 6.5W (idle) to 9.8W (max) for the SAS SKUs. These drives are adaptable to meet the diverse needs of major clients, supporting PowerBalance technology, which harmonizes power usage with IOPS performance. Additionally, they feature PowerChoice technology, optimizing power consumption during periods of inactivity.
Seagate's recent announcements mark a significant milestone in the realm of data storage, pushing the boundaries of capacity, performance, and data protection. These advances will undoubtedly have a lasting impact on the data center landscape and empower businesses to manage their data more effectively. We look forward to witnessing the continued evolution of data storage technology and the transformative effects it will have on various industries.
Why ACE Data Recovery is the Best Choice for Seagate Enterprise Hard Drive Data Recovery
If you are a company employee who needs to recover data from a Seagate enterprise hard drive, you might be wondering what are your options and how to choose the best one. In this blog post, we will explain why ACE Data Recovery is the best choice for your data recovery needs, and how we can help you get your data back quickly and securely.
Seagate Enterprise Hard Drives and Data Loss
Seagate enterprise hard drives are designed for high-performance and reliability, but they are not immune to data loss. Data loss can happen due to various reasons, such as physical damage, logical errors, firmware issues, human errors, viruses, power surges, etc. When data loss occurs, you need a professional data recovery service that can handle any type of Seagate enterprise hard drive and recover your data with the highest success rate.
ACE Data Recovery: Experience, Expertise, and Equipment
ACE Data Recovery is a leading data recovery company that has been in business for over 35 years. We have the experience, expertise, and equipment to recover data from any Seagate enterprise hard drive model, including Exos, IronWolf, SkyHawk, Nytro, and Barracuda. We have our own state-of-the-art cleanroom facilities and proprietary tools and software that allow us to perform the most complex and challenging data recovery cases. We also have a team of highly skilled and certified engineers who can recover data from any file system, operating system, or application.
At ACE Data Recovery, we understand how important your data is to you and your company. That's why we offer a free diagnostic evaluation, a no-data-no-fee guarantee, a fast turnaround time, and a strict confidentiality policy. We will evaluate your Seagate enterprise hard drive for free and provide you with a quote and an estimated time of completion. If we can't recover your data, you don't pay anything. We will also keep you updated on the progress of your case and deliver your recovered data on a new media of your choice. We will also ensure that your data is safe and secure throughout the whole process.
If you need to recover data from a Seagate enterprise hard drive, don't hesitate to contact ACE Data Recovery today. We are available 24/7 by phone or online chat. We will be happy to answer any questions you have and guide you through the data recovery process. We have offices in major cities across the US and Canada, and we can also arrange for a free shipping label if you are not near one of our locations. Trust ACE Data Recovery with your Seagate enterprise hard drive data recovery and get your data back in no time.