New QNAP TVS-h1288X 12-bay NAS
May, 2021
New QNAP TVS-h1288X 12-bay NAS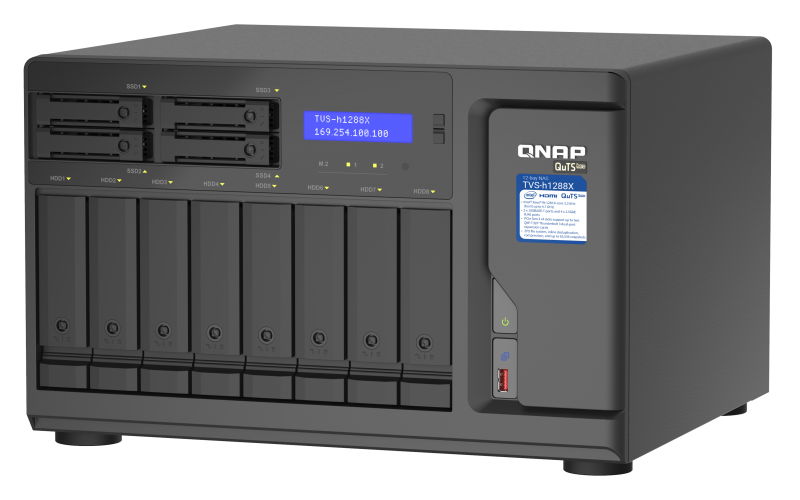 The QNAP TVS-h1288X NAS features a desktop form factor and was designed to be used in a SMB/ home office setting. It comes with a 6-core Xeon processor that features high grade embedded graphics, up to 128GB of DR4 ECC memory, 3 storage tiers of scaling speeds, a combined external bandwidth of 30 Gigabits per second (so 3,000MB/s).
The QNAP NAS solution is equipped with 8 x 3.5-inch SATA drive bays, 4 2.5-inch SATA SSD bays, and 2 M.2 NVMe Gen 3 x4 SSD bays and also features 10GBASE-T and 2.5GbE connectivity, ZFS NAS data reduction and data integrity.
The QNAP TVS-h1288X NAS features a front-mounted USB 3.2 Gen 2 10Gb/s port and has 4 more ports of the same bandwidth on the rear too, in USB Type-C and Type-A too. In addition, there are the PCIe Gen 3 x4 slots that allow users to add even more flexibility. They can be used to add QNAP's optional QXP-T32P dual-port Thunderbolt 3 adapters.
The QNAP TVS-h1288X is the first device in company's portfolio that allows optional thunderbolt with a separate Thunderbolt 3 upgrade card option. That means that those who want the high-level base hardware but either don't want Thunderbolt 3/4 connectivity or plan on scaling up to this later have the option to purchase the TVS-h1288X NAS without it.
Although the QNAP TVS-h1288X NAS is marketed as a 12-bay NAS, those are just the hot-swap bays. There are two more internal drive spots and the highest performing ones. These two M.2 slots can handle M.2 2280 (80mm) or 22110 (110mm) NVMe drives using PCIe Gen3 x4, so, technically, it's possible put 14 drives inside this 12-bay NAS.
The QNAP TVS-h1288X uses the QuTS hero software stack. This solution combines the ease-of-use and many of the higher-level management features of QNAP's traditional offering but adds ZFS as the back-end storage. The QuTS extends RAID support with triple mirroring and RAID-TP (triple parity) that protects against 3 drive failures.
The QNAP operating system arrives with hundreds of free applications that can be accessed from a web browser or desktop client and many apps for mobile on IOS and Android, so users have an enormous amount of software options open to them. It makes a good solution for content creators, 4K video editors, Hyperscale VM operators, or large scale business users.