Phison's new X1 controller powers Seagate SSD
August, 2022
Phison's new X1 controller powers Seagate SSD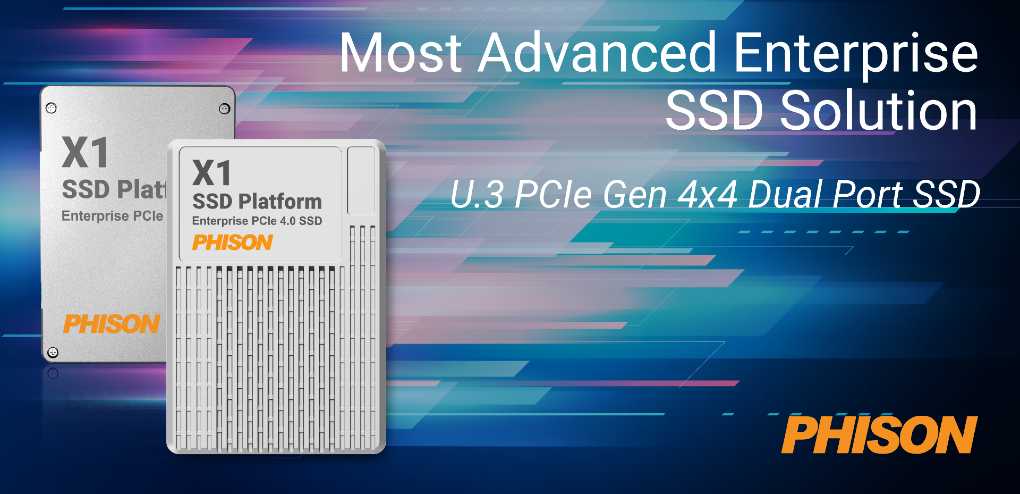 In the 2022, Phison and Seagate announced a partnership to develop and distribute enterprise NVMe SSDs. The result of the collaboration is the X1 SSD platform – an U.3 PCIe 4.0 x4 NVMe SSD that is backwards compatible with U.2 slots. The X1 SSD uses a new Phison controller exclusive to Seagate – the E20. It integrates two ARM Cortex-R5 cores along with multiple co-processors that accelerate SSD management tasks.
Phison touts the X1 SSD as a cost-effective, customizable platform that features more computing power and better energy efficiency, making it good for HPC, AI, and hyperscale applications. Phison claims the X1 offers more than a 30 percent increase in data reads than existing market competitors for the same power used. As to the performance, the X1 SSD is quoted to deliver up to 7.4GB/s and 7.2GB/s in sequential reads and writes, respectively, as well as 1.75 million IOPS read and 470,000 IOPS write in random 4K speeds.
Seagate equipped the X1 SSD with eTLC (enterprise TLC), power-loss protection capacitors, and included end-to-end data path protection. SECDED (single error correction / double error detection) and periodic memory scrubbing is done for the internal DRAM as part of the ECC feature. The X1 SSD supports the Data Integrity Field / Data Integrity Extension / Protection Information (DIF/DIX/PI) for end-to-end data protection. Other enterprise-focused features that are also supported are SR-IOV support, and NVMe-MI (management interface).
Seagate and Phison also claim that the X1 SSD can be customized for specific use-cases, and it offers the best performance in class along with the best energy efficiency. Seagate is marketing the X1 SSD under the Seagate Nytro SSD branding – the Nytro 5050 NVMe SSD series for data centers. The Nytro 5350 consists of the 1DWPD models, while the Nytro 5550 makes up the 3DWPD ones.
The new X1 SSD platform allows Seagate to create highly customized SSDs that meet the ever-evolving needs of the enterprise storage market, providing the industry with increased density, higher performance, and power efficiency. But no matter how good they are, the new X1 failures lead to SSD data loss. Then enterprises that use them will need to contact a professional data recovery services provider to get their critical data back.
ACE Data Recovery has been providing high-quality data recovery services for more than 35 years and has become one of the leading companies in the industry. ACE are ready to help the owners of the the X1 SSDs with their data recovery needs.