Addlink S93 Addgame NVMe SSD - Affordable Storage with Balanced Performance
October, 2023
Addlink S93 Addgame NVMe SSD - Affordable Storage with Balanced Performance
The Addlink A93 SSD is a versatile storage drive that offers a compelling balance between performance and affordability. While it does come at a slightly higher price point than comparable drives like the Lexar NM790, the inclusion of a heatsink enhances its overall value proposition. This drive is an excellent choice for both desktop and laptop PCs.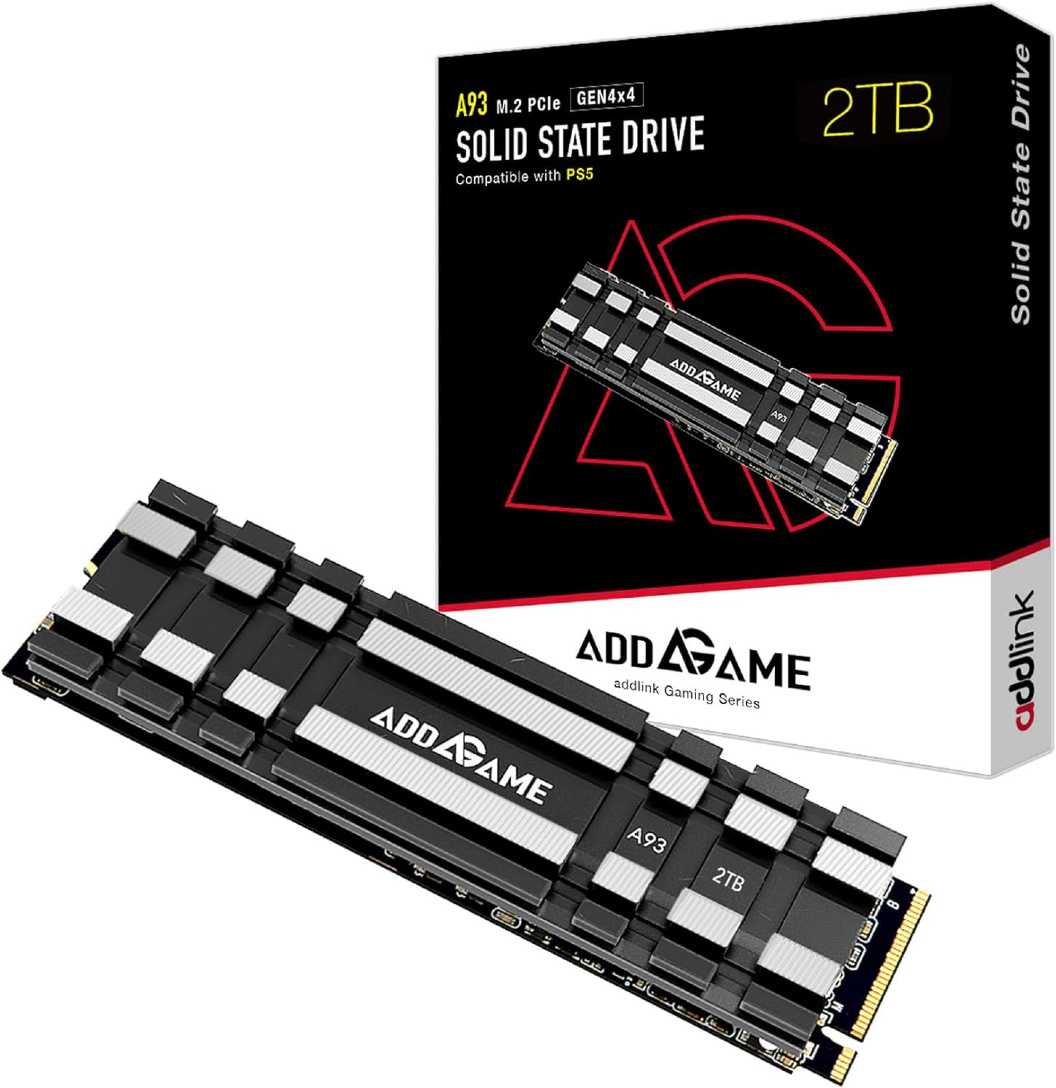 Addlink A93 Addgame Performance and Features
Addlink has established itself as a reputable budget-friendly option for SSDs, irrespective of whether they are high-end or entry-level. Their latest offering, the A93 NVMe SSD, is marketed as a "value" selection. However, such labels can be somewhat misleading, as cost-effective drives like the A93 can deliver remarkably robust performance. The incorporation of a heatsink further elevates its perceived quality. Additionally, the A93 is a single-sided drive with 4TB of TLC storage, making it highly coveted by laptop users and a commendable choice for desktop systems, especially the PlayStation 5, if storage capacity is a primary concern.
Comparative Analysis
In contrast to older SSDs that inherently consume more power and generate more heat, the A93 SSD emerges as a nimble leader rather than an aspirant to high-end status. It is important to note that the A93 is not intended to outperform flagship drives like the Samsung 990 Pro in the realm of PCIe 4.0 SSDs, nor does it seek to overshadow the well-regarded WD Black SN850X and Solidigm P44 Pro in terms of overall performance. However, it does draw inspiration from the Lexar NM790 in delivering surprisingly robust results. While the latter drive is essentially unadorned, the A93 distinguishes itself by featuring a heatsink, which effectively mitigates heat buildup even during sustained workloads.
The Addlink A93 is a reliable all-around storage solution, though its appeal is subject to price considerations. This drive is available in 1TB, 2TB, and 4TB capacities, and notably lacks a 512GB option. Nevertheless, this is not a significant drawback, as the market trend favors larger-capacity drives, and cost-effective alternatives are readily available at the 512GB level.
Comparatively, the Lexar NM790 SSD offers a more competitive price point at the 4TB capacity, while the Addlink A93 excels in the 1TB and 2TB capacities. Ultimately, the A93 stands out when you prioritize the added benefits of a heatsink. These types of drives are most economically attractive at the 4TB capacity level, and choosing the A93 with its heatsink over the NM790 involves only a modest price difference, which is quite justifiable given the improved performance and thermal management it provides.
Performance Overview
In terms of performance, the Addlink A93 SSD showcases impressive capabilities, reaching sequential read and write speeds of up to 7,400 MB/s and 6,500 MB/s, respectively. Additionally, it delivers exceptional random read and write IOPS of up to 1,000,000, reinforcing its prowess. Addlink further underscores its commitment to quality by offering a generous five-year warranty and 750TB of capacity per TB of storage, an ample provision that instills confidence in the product.
Addlink Heatsink Design
The distinguishing feature of the Addlink A93 is its integrated heatsink, a design element that sets it apart from the competition. The heatsink's crosscut design enhances its effectiveness across various cooling environments, although it does not offer an extensive surface area. Nevertheless, the A93's innate efficiency, coupled with the presence of the heatsink, ensures efficient temperature management, particularly in more demanding usage scenarios.
Construction and Cooling
It is worth noting that the A93 remains single-sided in its construction, even at the generous 4TB capacity, much like the NM790. This design choice positions the A93 as an excellent fit for the desktop systems. In an era where heat dissipation is paramount due to increased thermal loads, the inclusion of a heatsink serves as a valuable asset, bolstering the drive's overall SSD performance and longevity.
Underlying Technology
Under the hood, the A93 employs the same Maxio MAP1602 controller that was featured in the NM790, complemented by the use of 232-layer YMTC TLC flash. This pairing not only contributes to commendable performance but also excels in power efficiency, as verified through rigorous testing. The adoption of dense TLC flash allows for a single-sided design, an added advantage that enhances the drive's versatility. As such, the A93 and drives based on Phison's E18 and InnoGrit's IG5236 controllers pose robust competition, offering a comparable user experience at a more cost-effective price point.
Data Recovery for Addlink SSD Drives
If you have an Addlink SSD drive that has failed or is malfunctioning, you may be worried about losing your valuable data. Fortunately, there is a solution: ACE Data Recovery services.
ACE Data Recovery is a leading company that specializes in recovering data from all types of hard drives and SSDs. The Addlink SSD drives are prone to failure, how ACE Data Recovery can help you recover your data, and what you can expect from the process.
Addlink SSD Drives: Pros and Cons
Addlink SSD drives are solid-state drives that use NAND flash memory to store data. Unlike traditional hard disk drives (HDDs), SSDs have no moving parts, which makes them faster, quieter, and more energy-efficient. However, SSDs also have some drawbacks, such as limited write cycles, susceptibility to power surges, and firmware issues. These factors can cause SSDs to fail unexpectedly, resulting in data loss or corruption.
Recognizing SSD Drive Failures
When your Addlink SSD drive fails, you may encounter some of the following symptoms:
The drive is not detected by the BIOS or the operating system
The drive shows up as RAW or unallocated in Disk Management
The drive shows a SMART error or a bad sector warning
The drive is inaccessible or asks to be formatted
If you experience any of these problems, do not panic. The first thing you should do is stop using the drive immediately and contact ACE Data Recovery. Attempting to fix the drive yourself or using unreliable software tools can cause further damage and reduce the chances of successful recovery.
ACE Data Recovery has over 35 years of experience in recovering data from all kinds of storage devices, including Addlink SSD drives. We have a team of skilled engineers who use advanced tools and techniques to extract your data safely and securely. We also have a state-of-the-art laboratory with a Class 100 clean room where we perform all our recovery operations.
Types of SSD Failures
We can handle any type of SSD failure, such as:
Logical failure: This occurs when the data on the drive is corrupted or inaccessible due to human error, virus attack, software malfunction, or file system damage.
Physical failure: This occurs when the drive is damaged by physical factors such as water, fire, heat, shock, or power surge.
Firmware failure: This occurs when the firmware that controls the operation of the drive is corrupted or outdated, causing the drive to malfunction or become unresponsive.
ACE Data Recovery can recover your data from any of these scenarios with a high success rate. We offer a free diagnostic service where we evaluate your drive and determine the cause and extent of the failure. We then provide you with a quote and a time estimate for the recovery. If you agree to proceed, we will start working on your case as soon as possible. We work on a no data - no charge policy, which means that you only pay us if we recover your data successfully.
Drive Recovery Process
The recovery process usually takes between 2 to 5 days, depending on the complexity of the case and the availability of spare parts. Once we recover your data, we will send it back to you on a new storage device of your choice. You can also choose to download your data from our secure server. We guarantee that your data will be treated with utmost confidentiality and security throughout the process.
If you have an Addlink SSD drive that needs data recovery, do not hesitate to contact ACE Data Recovery today. We are available 24/7 to assist you with any questions or concerns you may have. We have a friendly and professional customer service team that will guide you through every step of the process. We also have multiple locations across the US and Canada where you can drop off or ship your drive to us. You can also request a free courier pickup service if you prefer.
ACE Data Recovery is your best choice for Addlink SSD data recovery. We have the expertise, the equipment, and the reputation to deliver quality results at affordable prices. Trust us with your valuable data, and we will not let you down.